​Lefse, krumkake, rommegrot, yum!
by Ben Haugmo | .(JavaScript must be enabled to view this email address) | All About Food | December 7th, 2016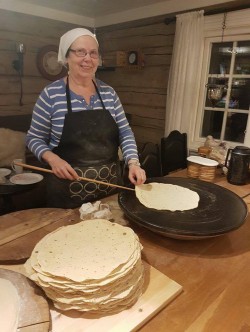 For many of us, the holidays bring with them distinctive memories of traditional Scandinavian dishes. Fond recollections exist of lefse spread with butter and sugar, or sweet krumkake patterned with distinctive designs, that crumble to pieces in one's mouth. Wouldn't it be nice to learn how to create those treats yourself and carry the tradition forward?
Crooked Lane Farm in Colfax, North Dakota is providing an opportunity to learn traditional Scandinavian treat-making with its upcoming baking demonstration. The event will include stations for learning to make lefse, krumkake, Norwegian flatbread, and rommegrot.
Crooked Lane Farm belongs to Mary Jo Schmid and her husband Brent Larson, both retired educators who wanted to be be able to continue to share the property with others.
"It's a North Dakota century farm," said Schmid, "so Brent grew up here, his dad grew up here, and his grandfather settled it. When we retired, we had hoped to just turn this into like a bed and breakfast, but because the buildings were too far gone, we ended up tearing some things down. We had always wanted to do something with the farm that would allow us to share it with others, because it's in such a beautiful spot.
The couple settled on using the property as a folk school. It's now used to host classes such as the baking demonstration, as well as other events such as concerts and weddings.
Just because the farm is steeped in tradition doesn't mean it can't adapt or improve.
"Three years ago we moved a 1943 barn onto the place," said Schmid "and we refurbished it, so now we have the barn that we use for the weddings and classes, as well as a nice big house with a lower level that allows us to teach classes or do concerts."
Schmid and Larson are handling the flatbread and rommegrot making respectively, with other community members called in to help with lefse and krumkake.
"I'm making the flatbread because that's my husband's favorite," said Schmid, "but mine would probably be the krumkake!"
With so many experienced helpers, visitors to the farm are sure to leave with new skills.
This weekend, come to Crooked Lane Farm for an opportunity to create those traditional treats that we remember, and perhaps even learn to make something new.
IF YOU GO
Crooked Lane Farms Baking Demonstration
Saturday, December 10 from 10am to 2pm
17385 County Road 4, Colfax, North Dakota
Admission: $5