​Madina Cuisine
by Logan Macrae | .(JavaScript must be enabled to view this email address) | All About Food | March 29th, 2017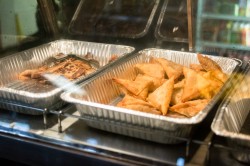 photo by Logan Macrae
Madina Cuisine is a hidden gem. It's an amazing environment and experience. It honestly felt like home, and it was the first time I had ever been there.
As you drive down 13th Avenue, Madina Cuisine is easy to miss, it's tucked into the same strip mall as Kum and Go and O'Reilly Auto Parts. Don't make that mistake. This is one restaurant in Fargo that should not be missed. It's truly unique.
The interior is a dark burnt red, and the seating is rather ordinary, but the food is extraordinary and intoxicating. Madina is a magician, and her flavors are alive. Her food is truly made with love and passion.
I can't even mention anything more about the food though until I introduce the woman behind it. Madina is an amazing woman. You'll fall in love with her the moment you hear her speak, and her chuckle can only be described as melodic and heartwarming. Talking to her melted my heart, and I challenge anyone not to be taken by her charisma.
She is a jolly, motherly, joyous, mildly portly hijab adorned food advocate, and natural born chef. She spoke to me, and described her love of food stating "you know you love food when you go to a restaurant, and you not only eat the food, but you start wondering how you can play with these flavors somewhere else."
She is talented, inventive, and her dream since she was fifteen was to own a beautiful restaurant. I had goosebumps rolling up my arms while she described it to me. She stated, "I'm not greedy, all I have ever wanted was a beautiful restaurant and to cook food… it's not about the money, it's about the food."
This sentiment truly showed through the well-produced cuisine that comes out of her kitchen. The whole feeling is something special. It intoxicates you with the American dream, a reemergence of the old ideals that built this country.
The food is insanely good. I finished my meal and wanted to order another plate. The flavors were alive and danced in my mouth, a banquet of sensation. Everything was aromatic and brimming with dimension. I live for meals like this; a literal godsend, no matter what god you believe in.
We started with sambusa which is a puff pastry with seasoned chicken fried and served with a spicy green sauce. I had the chicken suqaar with perfectly seasoned rice, and some injura. The chicken was moist and perfect. It was spicy, but not so much so that it was unenjoyable. The injura is a spongy sour pancake-like bread that works perfectly for wrapping some of the delectable meat, rice, and lettuce. The flavors were all perfectly matched and prepared with care and attention. My friend had the goat cutlet which was excellent also. It was done in a beautiful reduction, and the flavors were on point. It was tender and delectable.
Madina Cuisine is a genuine amenity, an ornament of the community. Food is one of the most powerful connections to home, and she provides a home to those in the community that miss their traditional fare. It is her goal to cook foods that makes people feel this way, and she said to me that she would try to cook anything for someone, so they could be reminded of where they came from and made to feel more comfortable.
Madina Cuisine is an asset and deserves the patronage of Fargo. I will be returning on a regular basis.
YOU SHOULD KNOW
Madina Cuisine
2225 13th Ave S, Fargo
9am-9pm daily
701-235-0504