​Magnolia's offers variety
by Logan Macrae | .(JavaScript must be enabled to view this email address) | All About Food | March 22nd, 2017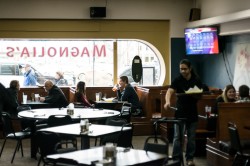 On a cold windy Tuesday night, we wandered into the new downtown establishment Magnolia's. I was impressed that the new tenant had replaced the garish green exterior of the previous Kitchen Gremlin. A pink and white signage and soffit had taken its place. The interior had also changed. There are seventeen tables in all with wooden booths that reminded me of the supper clubs of my youth. Country music was blaring. This may have been a problem if there were more customers, but we were the customers at 5:15pm.
Our server greeted us, and informed us of the evening specials. They were incredible! Two New York strips at 10 ounces for $16 or two rib-eye at 10 ounces for $18. Each with a side. What a ridiculous value, especially downtown. I knew what I was ordering, but I still took a gander at the menu to see what other options were offered. The prices on the menu were amazing. Almost every entrée was under twenty dollars. This includes ribs, chicken, fish, etc. This is great. Not everyone can afford to go out and pay $50 for two people to eat, and there are nights when you don't want to cook, and shouldn't have to settle for fast food or a franchise.
From the selection of appetizers, we decided on wings. We ordered them hot, which is laughable in this region of the country. They were Fargo hot. Not the heat that I would usually desire, but enjoyable. The wings were sodium-rich but edible. I would order them again, especially once they can serve beer. They are still working on their liquor license.
I decided on the two rib-eyes for my entree, and my friend chose the two NY strips. I prefer the fattier cut. For the sides, I chose the poblano macaroni and cheese and the French fries. My friend got a green salad and the mac and cheese. His salad arrived early and was very nicely prepared. There was only a single piece of brown lettuce, and every other piece was sufficiently fresh and crispy. The ranch dressing appeared to be home-made and was rich and creamy. A little went a long way.
Our entrees arrived promptly. They boxed our second steak and side for later which was appreciated. I initially gloated that I would eat them both on site, but it wasn't realistic. The fries and steak were hot when they came to the table.
This is a big deal, and it should be. If your food doesn't come to the table hot, something should be done. This will bring me back.
I ordered my steak medium rare and it was cooked properly. It was apparent that a grill wasn't used, and the steaks had been pan fried or cooked on a flat top, but it was delicious. It was seasoned properly. Not overly salted, but it had been seasoned enough that it satisfied. I have been to other establishments in town, and it's like they were scared to season their steaks. This was right on. The fries were fresh cut and delicious. The portion was huge. I took half of my fries home.
The mac and cheese was bland. The poblano pepper isn't the spiciest but it does fall between a bell and a jalapeno. The flavor should have been stronger, and garnished with a few slices to complete the concept. It wasn't really cheesy either. Adding cream, butter and more cheese would have helped. This is difficult, and if done properly the macaroni should have been prepared previously, then blanched, and the addition of the cheese and other ingredients could have been made to order. It would be fresh and less dry. I am not aware of the limitations of the kitchen, so this may not be an option. It was certainly edible, and it wasn't an area of great disappointment.
The hours at Magnolia's are limited. With the portions and prices that are offered an extension of the now 11am to 7pm daily would be welcome. I would love to go after a few drinks, and enjoy this type of cuisine. There are many restaurants in the Twin Cities of this style that stay open until bar close. This may not be a first step, but something to work towards if the market demands it.
Magnolia's is a welcome addition to downtown. There isn't a restaurant that fills the niche that it occupies. It's accessible, affordable, comfortable, and not overstated. It's utilitarian, and reminiscent. If the food stays consistent there should be no reason that this new restaurant doesn't become an old favorite. I will surely return.
YOU SHOULD KNOW
Magnolia's
402 Broadway N, Fargo
11am-7pm daily
701-540-6662