​North Dakota BBQ
by Judd Eskildsen | .(JavaScript must be enabled to view this email address) | All About Food | May 3rd, 2017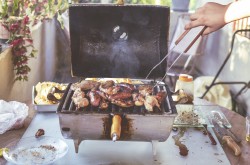 There is no true BBQ capitol of the United States. Depending on who you ask, you may be answered with a highly opinionated response of MEMPHIS! ST. LOUIS! CAROLINA! Or an even more opinionated response of TEXAS!!!
In professional circles, St. Louis is thought to be the best region because it's considered to be a melting pot of the older traditional styles.
Memphis and the Carolina regions are adamant that pork is the only meat to be used, while Texas claims beef is the only meat to cook.
Memphis and Texas share the thick, sweet and rich tomato-based sauce, Texas having more spice than the rest.
The Carolina region on the other hand uses a thin, mustard based sauce.
St. Louis entered the scene much later than the other regions and uses a wide range of meats and a mild, sweet tomato-based sauce with a kick of vinegar. They took the best parts of each region of BBQ and made an amazing style in my own opinion.
The Midwest is starting to gain national and worldwide attention from the culinary world, and there's no reason why our style of BBQ shouldn't be included in the conversation. Much like St. Louis, The Midwest has been sitting back, waiting and learning from the rest of the states that are doing their own thing.
In my early years, I was always around a grill, and having a large extended family that gathers regularly makes it easy to have respect for the pitmasters in the South. Everybody would bring their side dishes, and it wasn't rare to see my uncle Doug posted up near his homemade, wood-fired cooker with something delicious inside.
As I grew up and learned how to control the grill better, my brother-in-law Josh and I decided it was time to buy ourselves smokers. It started with ribs, and went on to pork butts, chickens, and turkey breasts. We don't get to cook together as much as we used to, but surprisingly, we've both moved on to beef brisket around the same time.
Up here (Fargo/Moorhead), it seems like the majority of us crave smoky meats cooked over a fire, and I'm seeing more and more people getting into BBQ as a hobby. Many people have their own processes, their own rubs and sauces, and it really is a melting pot, much like St. Louis became.
It took me a long time to put my sauce on my menu, and even longer for me to be comfortable with selling my ribs to the public, but with summer creeping up on us, it's getting to be time for me to switch up the menu a bit, and I'm really starting to feel the need to fire up a smoker for some North Dakota BBQ.
[Editor's note: Judd Eskildsen is Executive Chef at Proof Artisan Distillers]