​Pastry Palooza breakfast with Nancy Olson
by Hee Han | .(JavaScript must be enabled to view this email address) | All About Food | February 15th, 2017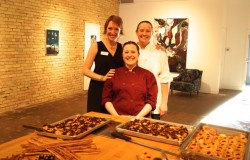 Imagine the scent of freshly baked yeast, cinnamon, butter and vanilla wafting through a kitchen in the early morning. Now imagine extra soft and moist muffins with lemon glaze or ham and cheddar scones waiting for you on a kitchen table. It's tempting to have a bite.
Nancy Olson, pastry chef, recalls her memories of grandmother's kitchen, church basement potlucks and Parisian patisseries. The warm and comforting scent gives us strength to get through this severe winter in the Fargo-Moorhead area.
Olson grew up watching her mother baking after school and often visited her grandmother's house to get sweet treats like jams that she had made. She was exposed to food and its joyful tastes throughout her life.
She has spent more than twenty years in the hospitality industry including in New York where she lived for more than a decade as the pastry chef for the award-winning restaurant, Gramercy Tavern. She recently worked at Nicole's Fine Pastry in Fargo as well.
This time, she is pleased to work with APT (The Arts Partnership) and bring us some of her favorite breakfast pastries for a popup breakfast. She loves baking for people and having the ability to excite others with her culinary artistry.
"I hope you will join us," Olson said, "for my delicious take on toffee glazed monkey bread as featured in the Gramercy Tavern cookbook. I plan to bake ham and cheddar scones, cinnamon rolls, brioche rolls stuffed with chocolate hazelnut spread and lemon-glazed muffins.
"I cannot imagine this breakfast being complete without serving my grandmother Zerr's kuchen," Olson added. "I was able to share the recipe for this local specialty in November 2007's Food and Wine magazine. It was so incredible for me to be able to share something that is a part of our local food heritage. I will bake my favorite; prune, as well as apricot."
APT and Nancy hope that this event will be more than a general breakfast. They expect the breakfast to be an event filled with enjoying freshly baked breakfast pastries together as a community.
Pastry Palooza will be a chance for a local community of people to get together, share, relax, meet APT's artists and enjoy each other's company. Delicious coffee from Atomic Coffee will also be provided.
"I love teaching/nurturing," Olson said. "It is a great thing to have as a chef. I just love helping people and seeing them move on. It is really amazing to be in a part of life giving them something. Desserts make people happy. That is an amazing profession to be in. I cook, teach, eat a lot of sugar and I love it."
APT is a non-profit organization that provides a creative, collaborative and safe place for artists to make art and for the community to collide with it.
You Should Know:
APT's Pastry Palooza with Nancy
Saturday, February 18, at 8 am – 11 am
225 4th Ave. S., Fargo, North Dakota 58103