​Restaurant Week in Fargo
by Granville Wood | .(JavaScript must be enabled to view this email address) | All About Food | June 7th, 2017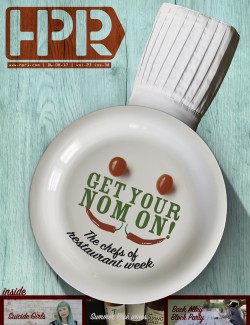 It's Restaurant Week in Fargo and I sat down with three of the participants to find out a little more about them. It's always nice to get to know some of the lesser-known chefs and owners who support our restaurant community.
One thing we all agreed on was Restaurant Week is more than trying to garner new customers. It is also a way to reward their loyal patrons.
Saru Pokharel, proprietor: Everest Tikka House
We all measure bravery and courage in different ways. There are brave people doing brave things every day. I met such a person this week.
Imagine getting on a plane and flying nine thousand miles, by yourself, going to a country, a land, a civilization totally contradictory to your own to start a new life.
If I said you are going to Nepal tomorrow with what you have, would you go? Saru Pokharel is such a person. At the tender age of 18 she came to Fargo-Moorhead to attend MSUM, to study Health and Business management.
After graduating she took a position at Microsoft where she worked for a few years but just didn't like being stuck in a cubicle all day, so she left and went into business with a fellow Nepalese friend.
With a family background in hotels and hospitality, she seized on the American dream of opportunity and opened Everest Tikka House. The industrious Saru was making a home for herself and armed with family recipes, brought authentic Nepalese and Indian cuisine to Moorhead.
This well-educated young lady was no stranger to bold moves and knew the best way to bring people together and unite them was through food. This was food that most locals were not familiar with and there were a few naysayers, but they persevered and let the food do the talking.
When she is not at the restaurant she divides her time between additional classes at MSUM and further self-improvement through reading. Recent reads are "7 Habits of Highly Successful People" and "The Power of Habit." When she is out and about she loves the croissants at Nichole's Fine Pastries, along with a good cup of coffee and Ryan Nitschke's creative cuisine at Luna, another participant in Restaurant Week.
Talking with the soft-spoken Saru, you get a sense of calm self-confidence, a sense that no matter what she took on she would be a success.
Ryan Shearer, Executive Chef: Hotel Donaldson
This energetic 24-year-old chef has found a home at the HoDo after crisscrossing the state and then some. Born in Washington state the family moved to Dickinson when he was 10 years old.
He's married to Olivia, who is also in the business working at Luna as a server. They are expecting their second child and they have a nine-year-old son.
Ryan spent time in Dickinson and got the cooking bug while working at the Ramada Inn, where the chef would become his mentor. After a year there he headed down to Minneapolis and the Cordon Bleu cooking school to hone his skills. After achieving his certification, it was back to Dickinson for a few more years.
He again joined the crew at the Ramada Inn while venturing into the world of personal chef. In doing so he became a local celebrity and was featured in several local publications. He found being a personal chef was rewarding for the immediate feedback you receive from the clients.
After two years in Dickinson he headed for Fargo, only find a drought in hiring for cooks, so he poked around doing what he needed to do to feed the family.
A break came when he signed on at Mezzaluna, where with hard work he rose to sous chef and chef de cuisine. He's an avid reader, a self-proclaimed sponge for knowledge and inspired by the work of chef David Chang.
Time away from work is spent with the family, enjoying a local craft beer or at Luna as he too is a fan of Chef Ryan's food.
With tattoos being a part of the new chef's uniform, Ryan has an unusual one on his forearm. It's a funny looking comic book dinosaur with the word RAWA. Turns out RAWA is dinosaur for "I love you," and the tattoo has strong family meaning shared by his Mom and sister.
Being the foodie type, I asked him if we went to his house and looked in the fridge, what would we see? Baby food, beer, pork, Sriracha and left-overs. Sounds about right for a hard-working chef.
Kari Oslowski, Head Chef: Barbacoa Restaurant
There is a ton of energy packed into this rather petite 33-year-old chef and she is using it to explore the nuances of Southwest American cooking. The day we sat down she was prepping for a party of 1500 the next day, no small feat while overseeing a la carte service for the restaurant at the same time.
Kari attended culinary school in Wahpeton, receiving her Associate degree. Armed with a boatload of self-confidence, she joined the culinary staff at the Radisson Hotel in Fargo, where she spent a little over a year before moving over to her present position at Barbacoa.
She especially likes the range of tastes and flavors of Southwest Cuisine and smoking a variety of meats for the restaurant. As I come from Texas we really had a good talk about the complexity and layers of flavors associated with Mexican cooking and that of the Southwest.
One of her favorite TV shows is Good Eats with Alton Brown. She likes his scientific approach to cooking, which is a vital element in all cooking. A chef should know how different foods react to different cooking methods.
When she does get time away from the restaurant, she likes to spend it hiking in local state parks in across the river, eating at Porter Creek and just chilling at home.
There are no fuzzy kittens or dogs in her house, no sir, just lizards. I am guessing big ones as they get to wander freely about the house. No worries about insects flying around.
As a member of the new age chef club, she too is adorned with body art. Some intricate Mehndi covers on one arm and on the other a feather and some Chinese symbols that translated say "Year of the Pig" which might have something to do with her Libra sun sign.
She's a local craft beer aficionado along with designer tequilas Casamigos and Milagro, which makes sense, given what she is cooking.
So, what's in her fridge at home, you ask? Milk, eggs, cheese, meat and left-over tacos. There seems to be a pattern here.