​THE BEAUTY OF SIMPLICITY
by Judd Eskildsen | .(JavaScript must be enabled to view this email address) | All About Food | March 15th, 2017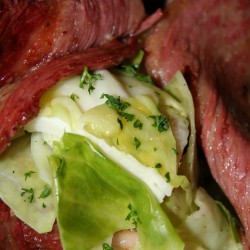 With St. Patrick's Day coming up, and everybody celebrating their true, or false, Irish heritage, I decided it would be a good time to write about one of my absolute favorite dishes, which is also very easy to prepare, Corned Beef and Cabbage.
Beef preserved in salt was a main source of income for many Irish people. Preserved beef was seen as a luxury item to the Irish since the cheaper cuts were primarily exported to the French and the better cuts were sold to the British, leaving none at all for the Irish workers, unless it was gifted to them or stolen from work.
19th century America saw a great wave of Irish immigrants due to the potato famine happening in Northern Europe. As mentioned earlier, corned beef was looked at as a luxury ingredient and was never available to the Irish before. It became extremely popular among the immigrants due to its very cheap price compared to other meats available at the time. Therefore "Irish" Corned Beef and Cabbage was born.
I'm never one for recipes, so we'll talk ya through it. Start with a 15-17# corned beef brisket. Separate the point from the flat, and trim almost all of the fat from the meat. If you're not familiar with a brisket, there are two masses of muscle surrounded by a large amount of fat. There is the flat, which is the easiest to work with, and the point. The point looks like a typical roast, whereas the flat is long, wide and about two inches thick.
Rub the meat generously with brown sugar, add 1/2 cup of generic pickling spice, 1 quart of your favorite Irish red (Drekker Broken Rudder), a roughly chopped onion or two and about two pounds of roughly chopped or baby carrots in a large roaster set at 200 degrees for a minimum of 14 hours and up to 24. Carefully transfer the corned beef to a separate container, discarding the vegetables and saving the cooking liquid.
To serve, put a cold pan on high heat with canola oil and a handful of roughly chopped or baby carrots. Starting in a cold pan will ensure that the carrots and cabbage will be cooked evenly. Continue cooking the carrots for 3-5 minutes or until the oil reaches its smoking point.
Add about 3 handfuls of roughly chopped Cabbage with generous amounts of salt and pepper. When the cabbage and carrots start to lightly brown on the edges, add cooked corned beef and about 1 cup of reserved cooking liquid. Continue cooking until almost all of the liquid has been reduced, and transfer everything to a saucer.
This dish is one of the most simple and beautiful examples of how great rustic peasant food can be. Leftovers are perfect for Reuben sandwiches. If you're not up for the challenge of making spectacular corned beef, I'll be serving it with cabbage and carrots, and on Reuben sandwiches all week! Stop by and say hi!