The essence of fall at the HoDo
by Logan Macrae | .(JavaScript must be enabled to view this email address) | All About Food | November 16th, 2017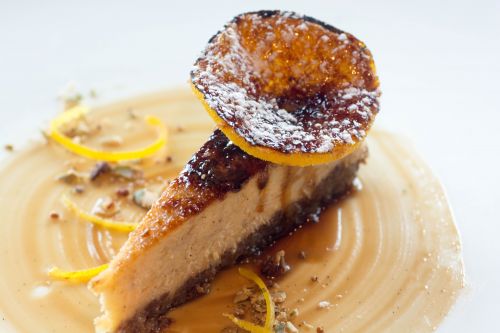 Colder weather, changing leaves, pumpkin spice and more are some of the few things that come to mind when many think of fall. But fall is about much more than sugary lattes and scarves, and you can fully indulge in fall flavors at one of Fargo's most premier restaurants. The essence of autumn is alive and thriving when it comes to the The Hotel Donaldson's new fall seasonal menu.
With the change of seasons comes a revived restaurant and lounge menu from Executive Chef Ryan Shearer, new desserts from Pastry Chef Dana Swanson and more all across the board at the HoDo.
"We're hyper-focused on what is in season and we don't just draw in random ingredients," said Swanson. "We are attentive to how much we can use our farmers. With the new menu, we are drawing from different aspects and then putting our own spin on things by going across cultures, different cooking techniques and how we can play it up under that theme."
Although the cold isn't a pleasant thing for many, peak flavor and heartiness in many produce items is a convenient benefit of the cold. Squash, parsnips, beets, sweet potatoes, lettuce, bitter greens, savory spices and much more are examples of some of the local ingredients you'll see in this year's fall dishes. And it's not just for entrees and appetizers, but desserts and drinks as well.
"The dishes all have maximum flavor. It's easier to embrace the farm-to-table aspect in the fall and winter because the ground is frozen," said Shearer. "Parsnips, for example, become incredibly sweet when frozen. The texture changes completely. Some things work to our benefit during the winter and we always take how it is outside into consideration. We play off of the dead cold versus the warmth you can feel when you come inside. That really influences how we write our menus as well."
The Harvest Gathering
This establishment's fall menu isn't the only thing to be excited about. If you want to truly indulge in the farm-to-table experience, then mark your calendar for the HoDo's annual Harvest Gathering–the restaurant's annual harvest dinner and a showcase of bounties within a 100-mile radius.
The Harvest Gathering this year is on Friday, November 17, at 6:30pm. Call 701-478-8888 to make reservations.
"We're changing it up to be a little more family-oriented and a little more casual," said Shearer. "Really, it's also an education process and teaching about local produce and farmers. Guests can meet the farmers, the farmers can meet some of the people that buy their food, and we get to showcase our skill and technique with the food as well. It's a good thing overall. People can get up and walk around, talk to each other more instead of just staying in their seats and getting served."
With this dinner especially, the culinary team at the HoDo works hard to capture the feelings of fall onto each plate and tie everything together with an autumn atmosphere. With produce, eggs, meat and more all coming from local farms within 100 miles of the building, you know you're getting dishes with maximum flavor and thought behind them.
"It's hard, but the payoff is always great because not many do farm-to-table here. Tastes, smells, warmth–I like to have continuity to the dishes and that they all come full circle. They all make sense together," said Shearer. "In autumn, it's a little easier to do because you can focus on people's comforts and the warmth inside with the cold outside. It's capturing that and trying to create balance and nostalgia at the same time."
Whether you're looking for a special night out with your family and friends or you want to indulge in hearty fall flavors any night of the week until the dead of winter rolls around, the key to satisfying your savory flavor palette is waiting for you at the HoDo this fall.
IF YOU GO:
The Harvest Gathering at The HoDo
Friday, November 17, 6:30pm
HoDo Restaurant & Lounge, 101 Broadway N