​Twist
by Logan Macrae | .(JavaScript must be enabled to view this email address) | All About Food | April 26th, 2017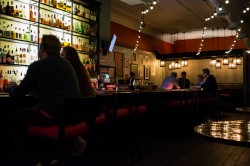 On Saturday at 4:40pm I headed into Twist to grab a quick bite to eat before work. I was promptly greeted by one of their friendly serving staff. I was in a bit of a hurry as I worked at 5:30pm and I needed to get in and out, and on my way. In these situations, I don't like to sacrifice the quality of my food in a time crunch. I believe that a restaurant should easily be able to promptly prepare a meal and get a customer in and out and on their way. This was thankfully the case, and I got out with time to spare.
The atmosphere was fantastic. I was immediately enamored by the creative lighting and the intimate setting. The booths were warm and welcome and the environment charming. Art was hung on one wall in salon style, and other pieces adorned congruent walls in a more organized manner that provided an eclectic yet composed feeling.
This visit to Twist was excellent. Both the food and drink were quite satiating and delicious. The cocktail was well prepared and incredibly refreshing.
For my drink, I had "Mitch's Mule." It was amazing. It was comprised of Grey Goose Poire, Bulleit bourbon, lime juice, cinnamon syrup, and ginger beer. The addition of the bourbon to the mule was welcome. The smoky to the spice of the ginger and cinnamon gave a more developed flavor and made for a fantastic cocktail.
For my entrée, I had the Louisiana chicken sandwich. While there are fancier and more craft items on the menu, I decided on a sandwich because it's accessible, and a standard. We have all gone to a restaurant and settled on the burger or the chicken sandwich, and while there may be more effort put into the higher priced items on the menu, the sandwich should get the same amount of overall attention. It should be hot, fresh, well produced, and delicious.
Twist didn't disappoint. I loved the sandwich, in fact after work. I wanted to go back for another one. It was as I described. Accessible and delicious. While it was spicy, it wasn't over the top. It was saucy, but not messy. The pickles were a fantastic addition, the sweet acid accented the spicy extremely well. The flavors all worked together, and I was honestly impressed. The sweet potato tots were also a great side for this sandwich. The salty and sweet combo not only pleased me, but is, in general, an overall crowd pleaser. They are a welcome addition to a menu to battle the overly saturated market of their more established cousin the French fry.
The friendly service, excellent food and divine cocktail made this trip to Twist far better than expected. The ability to get in and out with time to spare put the icing on the cake. Twist offers many more delicious options on their menu. They also have a rather significant vegan menu for those readers who favor a more plant based diet than my own. I would recommend Twist for a meal of any kind. From a late night drink and plate of mussels to a quick lunch while running errands.