​Well crafted Rustica offers elegant atmosphere and handcrafted fare
by Logan Macrae | .(JavaScript must be enabled to view this email address) | All About Food | May 10th, 2017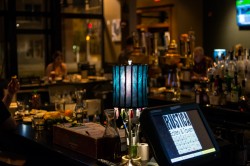 After crossing the memorial bridge into Moorhead on the corner of 4th and Main, there sits a historic brick building. The large exterior windows give an elegant and sophisticated feel, and the atmosphere in the interior echoes the same charm. Dark wood, black accents and dim lighting provide an intimate setting for a craft meal, a fantastic appetizer or a cocktail in a bustling yet relaxing environment.
I have frequented The Rustica Tavern for several months, celebrating their late night 9pm–11pm happy hour. I'm a server myself, and the availability of quality handcrafted food at a late hour, paired with craft beer, is quite appealing. There is a certain rarity and diversity to the happy hour menu that can satisfy even the most discerning of foodies. With a full menu of wood-fired pizzas on one side and on the other a cataclysm of flavor.
I'll warn you now, that on this occasion I was feeling rather gluttonous, and I even amazed myself with the overall quantity of food consumed.
I started my visit with a handcrafted old fashioned with Bulleit rye. I appreciated the care in the crafting of this cocktail, and the overall attention to detail. It was superb, and Don Draper would have been proud.
I sipped my cocktail while I gandered at the appetizer menu. I have become accustomed to ordering one of their pizzas on most of my visits, you can't go wrong, but I was in the mood for something different. I decided on the burrata for my first "course."
The buratta is a delicious ball of cheese similar in flavor to buffalo mozzarella. The obvious difference being the texture. Once you cut into the ball the interior is much more spreadable and soft. This is presented in the center of a large platter surround by micro-greens and halved cherry tomatoes, topped with pesto and then finished with a generous drizzle of balsamic syrup and served with toasted French bread. This appetizer is fantastic. I heard one patron describe the dish as a mix of bruschetta, and a deconstructed caprese salad. My mouth is currently watering while writing about it, and a strong craving to return and devour this dish again is taking hold. Soon.
At this point I had finished my first cocktail, and I was craving something different. I discussed my options with the bartender and together we decided that a twist on a Moscow mule would be a good option. He prepared a mule using tequila and a slice of jalapeño. The flavor and refreshing nature of this sweet, spicy, and sultry cocktail was amazing.
I finished the entirety of the burrata, while I insure you this is no small feat. I was still hungry.
I was now in a culinary conundrum. I wasn't sure what I wanted next. The fried chicken sounded excellent. The pizza was calling my name, and so were the Spanish meatballs.
I had never had their burger though, and my curiosity was piqued and getting the best of me. I have never been disappointed by the food there, so as far as I could tell everything on the menu was a pretty safe bet, but I was eager to taste their spin on an American classic. It didn't disappoint.
The burger was quite large, and a great value. It came with two types of cheese, both Mahon, and cheddar and was topped with a Caesar aioli. I wasn't sure if I would enjoy the sauce, but it was an excellent accent to the cheese combination melted over the medium-well beef. The bun was toasted which is a must in my opinion. It allows for the burger to be a bit more undercooked, so if any juices remain in the patty the bun doesn't become unnecessarily saturated and mushy. No one wants a bloody bun.
It was served with Rustica fritas, and a combination of artisan pickles and pickled onions. All the components complemented each other excellently and I was truly satisfied. Although, if you consider the sheer mass of food consumed. I would have to be Andre the giant not to be.
Rustica is a fantastic establishment that truly cares about their food. There are a select few in the area that have the leadership, management and culinary prowess to pull off such broad concepts, and produce a conducive yet varietal menu.
The care and consideration that is provided for each dish can only be considered borderline visionary. I recommend a visit to Rustica whenever your cravings for fantastic cuisine arise.
YOU SHOULD KNOW
Rustica Eatery and Tavern
315 Main Ave, Moorhead; 218-227-5388
Tue-Sat 5-11pm; closed Sunday & Monday