Wine cellaring 101: your guide to aging wines
by Megan Bartholomay | .(JavaScript must be enabled to view this email address) | All About Food | November 29th, 2017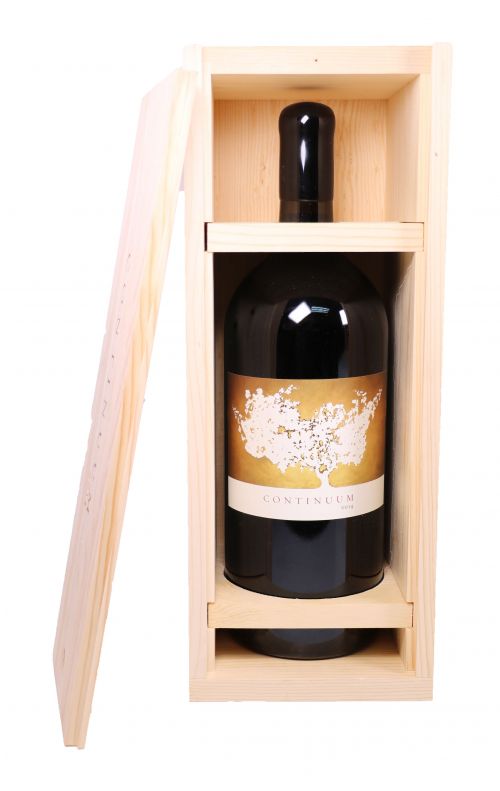 There's a common misconception that all wine gets better with age. And there are lots of cliches and dumb birthday internet memes with Leonardo DiCaprio toasting you with a glass of Champagne saying something along the lines of, "Like a good wine, you're only getting better with age."
Um, not true. A good wine? How about a great wine. A freaking amazing one. In fact, would you believe that only 1% of all wines in the world are meant to be aged? Well, believe it, baby.
So, what do I mean by "aged?" And for how long? And what wines should I age? And where should I store them? It's like a rabbit hole of questions. Slow down, partner. Let's figure this out together.
Okay, a few general ground rules should help to set the stage for aging wine, also called cellaring. We'll go into these in depth, but here's your initial checklist. If you said yes to any of these, you may have a candidate for cellaring on your hands.
Is it over $30?
Does it have moderate to high acidity?
Does it have moderate to high tannins?
Does it have a moderate to low alcohol content?
Does it have a relatively high residual sugar content?
The $30 rule: If it's under $30, you should probably just drink it now. What do I mean by now? Basically I mean within about five years of buying it. It's not like after five years it will be horrible, especially if you store it correctly (we'll talk about that shortly). It simply won't benefit the wine in any way and eventually it will just taste blah.
Acidity: This is arguably one of the most important requirements for cellaring a wine. Acidity is the thing that happens when you sip a wine and your cheeks immediately salivate. I call it the gleek factor. A lot people confuse this with tannins or alcohol in a wine. It's not. This is acidity. And if you're getting a lot of gleek, your wine has plenty of acidity. As wines age, they lose their acidity, so you've got to start with something that has a high enough content to withstand the aging process.
Tannins: This is especially important in red wines, since white wines don't really have tannins. Tannins are the little flavor and structure nuggets that live in the skin of the wine, and because all grapes are white on the inside (they are!), the way red wine gets its color is from contact with the skins.
I know. Your mind is blown right now. And tannins are the things you taste on the sides of your tongue. Think of tannins like the sensation you get when you curl your lips in toward your teeth and suck in air really fast. Real dry. So when a wine has what we call a "grippy" taste to it, it's probably got a decent amount of tannins that will soften and develop with age.
Alcohol content: Unless a wine is fortified (like Port or Madeira), dry red wines do NOT age well when the alcohol content is high. Generally, regular still wines will have an alcohol content of between 10.5% (like a riesling) to nearly 16% (like a zinfandel or shiraz). Usually wines that age well tend to be below about 13.5%.
Residual sugar: I'm getting kind of nerdy with wine terms here, but this is important. Most red wines don't have a lot of residual sugar, but some wines like riesling, Sauternes, Ports, Sherries and Madeiras do. Some of the oldest wines in the world started as sweet wines and are still in existence today. I'm not sure how delicious they would be, and we'll probably never know.
So now that you have some guidelines for choosing a wine to age, what else do you need to know? Well, temperature and light exposure are probably two of the most important variables in cellaring wine.
I mean, they call it cellaring (read: COLD AND DARK). And this is actually pretty simple. Keep your aging wines at right around 55 degrees (it's the magical number) and out of the light. A wine fridge? Sure. Mom's dark and chilly basement? Even better.
And if you're still really confused and not ready to make a determination on your own, read the vintage notes. Go to the winemaker's website and look in the trade documents or Google it (assuming we still have net neutrality once this article publishes).
And if you need more info yet, according to Wine Folly, here's a list of some common varieties that tend to age well with time:
Classic Red Wine Blends
Cabernet Sauvignon
Nebbiolo
Tempranillo (Reserva and above)
Sangiovese (Riserva and above)
Red Burgundy and other cool climate Pinot Noir
Tannat, Sagrantino, Monastrell/Mourvèdre
Quality Portuguese Red Wines
Vintage Port
Vintage Madeira
Tête de Cuvée Champagne
If you're thinking about starting a collection, my advice is to start small and invest only what you're comfortable spending. Oh, and have some self control. My biggest problem is that minute I get my grubby mittens on a nice wine, I want to drink it right now. Maybe you'll do better.
Here are a few suggestions I know are available locally: 2013 Chateau Gigonan Clos du Roi Chateauneuf du Pape ($42.99), 2012 Knights Bridge To Kalon Napa Cabernet ($139.99), 2014 Continuum Napa Red Blend ($259.00).