​Young Blood Coffee: masterpieces in 12-ounce cups
by HPR Contributor | .(JavaScript must be enabled to view this email address) | All About Food | November 2nd, 2016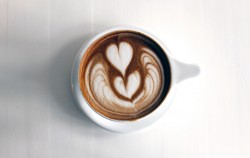 By Nicole Mendoza
nicole.i.mendoza@ndsu.edu
Tim and Elisha Griffin rolled in and found their niche in Fargo, and they share a yearning even stronger than a cup of their best, a passion for the process of coffee production and ingestion. By Jove, we think they've got something!
They've lived and worked in some of the best big cities in the country: Portland, San Francisco, West Los Angeles, and Minneapolis, but here in Fargo-Moorhead they are coffee pioneers and they already feel at home. Need we say, we hope they stick around!
It's been only a month and a half and this power couple has already managed to scratch an itch among us. To find a place like this is ecstatic serendipity. They've done no advertising aside from posting in the basic social media outlets and unlocking their front door. Their vision is simple and direct, to pursue better coffee and to cultivate relationships in our little corner of the world.
Fargo's newest coffee spot uses a peak quality brand, Four Barrel, roasted in San Francisco, a home in which its roommates treat coffee as religion. Tim has worked in distribution, and he knows that steadiness and reliability can make up for the size of a smaller account. He and Elisha know what they are doing and they are in the right place to build on their experience.
Another valuable experience: Tim worked in a super saturated market, in Portland where there is coffee on every corner, and he knows how to stand out from the crowd. Being interactive and thinking of the customer's experience is key, he says.
Another good call: their decision not to roast their own beans until they have a better handle on the process and can control it from beginning to end.
Young Blood Coffee has also been growing by presenting live music shows and incorporating artwork by up-and-coming artists like Emma Beatriz. From an outside-looking-in perspective, they are more than different, powerful, and ambitious. Having conversed extensively with the Griffins, they display total osmosis of our most basic trait, and are certifiably North Dakota nice. We think they were born that way! They work a lot of hours, seven days a week, and their friendliness is genuine and unforced.
And we heard it through the grapevine, guests have been raving about its inviting environment. One of their regular customers, Brian Harris, chimes in that; "This is not just a Fargo coffee shop but a San Francisco Mission District coffee shop transported from their downtown to ours."
Harris also admires the baristas for their work. "They have dozens of blends tailored to different tastes, but their primary goal is to insure it's perfect for you." Translation: everybody feels welcome there, which sounds obvious, but it's either there or it isn't, and it isn't always in other places we've been in.
Young Blood Coffee is also every broke college student's dream: high quality coffee at a low quantity price. With cups averaging between three and four dollars, it can scarcely be credited.
But it does not just stop there, oh no, it keeps getting better, for it is conveniently located between a popular sushi shop, Wasabi, and a late-night noodle place, Drunken Noodle, in the midst of the heart of Downtown Fargo.
The Griffins emit carefree vibrations as they whip together masterpieces in 12-ounce cups.
And for those who favor the decadence of at-home indulgence, they cheerfully provide their own grounds and beans, so the party never ends when they lock up their doors.
So jump in your car and get ready for the caffeine rush of your life. Say hello to Fargo's next big hit.
It is, my dears, the accumulation of two persons' passion to brew liquid art, the first light of a legacy poured out one cup at a time.
YOU SHOULD KNOW
Young Blood Coffee
623 NP Avenue, Fargo
Mon-Fri, 7am-5pm; Sat & Sun, 8am-5pm
218-770-4728