Back in time for a limited time: it's Zima!
by Chris Larson | .(JavaScript must be enabled to view this email address) | Beer Snob | June 14th, 2017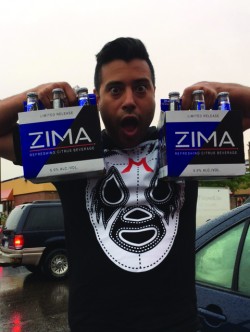 Riding a double wave of nostalgia and clear beverages, the "original" clear malt beverage Zima is making a very limited comeback this summer. Inspired by the recent success of new flavored and mostly clear alcoholic malt beverages like Henry's sparkling sodas, Truly, Spiked Seltzer and Smirnoff sparkling sodas, MillerCoors is bringing back a beverage that has, for the most part, been gone from the shelves for nearly 20 years so let's turn back the clock and give some history of the iconic cult brand of the early 90s: Zima.
Zima, the first "malternative" drink, hit the national market in early 1994 after two years of test launches. Within the first full year of national market presence, it had reached one million barrels sold for nearly 1% of the entire adult beverage sales for that year.
Though it had a huge initial presence, it failed to connect to the largest segment of the market, young adult males and soon after its year of great success, sales began to plunge before it eventually disappeared from our local shelves.
There were a couple of notable attempts to revive the brand with different expressions like Zima Citrix, Zima Gold and Zima XXX, but the introduction of many more flavored malt beverages in the early 2000s hurt Zimas sales, and though it did survive for more than a decade in international markets, Coors ceased U.S. sales in 2008. Since then, it has seen success in the Japanese market, where it is a popular club drink and even used to make cocktails in the most talked about Asian cocktail bars.
In April of last year MillerCoors filed for a trademark on Zima after letting all related trademarks expire in 2012 and 2013. In the year to follow, only bits and pieces of info related to Zima would get leaked out including a statement from the company that simply said: "If you're one of the zillion fans who have missed Zima, the answer should be clear," The national press release that followed claims a nationwide release of a very limited quantity in time for the Fourth of July week, but our local market launched it on Monday and it might even be gone from our market by the end of this week.
I thought it would be fun to sit down for a sampling with my cohorts for the Cocktail Showdown and Bartender's Battle to give our "professional" opinions on the return of Zima. Raul Gomez was in Minneapolis for the week but he was able to secure some Zima from a store in the cities and facetime with me and Sabrina Hornung as we cracked into our cold, clear, not quite beers.
As luck would have it, Sabrina had never tried Zima during its peak and her unfiltered opinion was not tainted by nostalgia when she remarked, "A lot more refreshing than I expected it to be. I was expecting it to be more malty and more of a "Crystal Pepsi of beers" I guess".
Raul was also quite surprised at the initial taste and summed up the experience well. "Ahead of it's time. It's kinda tasty and not all that annoying. I thought it was gonna be offensive and lame but now I think it was just ahead of it's time as an anti-beer. Final verdict: I feel bad defending it but it's not that bad and should probably still be on the market".
Personally, I hadn't had a sip since shortly after I turned 21 in 1996. I don't remember being especially fond of the slightly medicinal taste, even with a Jolly Rancher in it but perhaps drinking peaty scotch and gin cocktails has changed my palate enough to enjoy it more now.
This time around, I didn't find the taste to be all that bad. It seems they may have changed the recipe, as the somewhat medicinal and artificial flavors I remembered are gone and it comes across as a fairly clean, lightly citrus-flavored, somewhat malty yet surprisingly refreshing drink.
While I couldn't see myself drinking more than one or two and certainly won't be driving all over the Upper Midwest hunting for more six packs, it was fun to revisit a memory from my more youthful days.
If you yearn to take a trip back in time to the glory days of Zima, I wish you luck hunting for whatever remains in town. It seems like the larger stores got special deliveries at the beginning of the week and are mostly sold out by now, but you may have luck at some of the smaller stores or if you are shopping outside our local market this weekend.
Even if you aren't interested in revisiting the clear malt beverage that will forever be associated with 90s nostalgia, head on over to zima.com for a full-on internet assault, 1990s style. Complete with flashing star backgrounds, dance music, flashing logos, obnoxious font types and an old-school website visitor counter, the website alone will bring back memories.