Drekker adds cans to its lineup of packaged beers
by Chris Larson | .(JavaScript must be enabled to view this email address) | Beer Snob | May 24th, 2017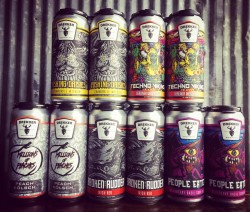 This Memorial Day weekend, thousands of hands will be reaching into icy cold coolers for a refreshing beer to wet the whistle.
Mark Bjornstad, co-founder and president of Drekker Brewing Company hopes that at least once during the first holiday weekend of the summer you are raising a beautiful 16 oz can of Drekker beer and giving out a hearty "Skål!" That's right, folks, for the first time ever, Drekker beer is now available in a variety of different four packs of some of the most eye-catching 16oz cans on the market.
I recently sat down with Mark to talk about the can release and taste some of the great new beers Drekker will be running through their brand new, incredibly compact mobile canning unit. This state-of-the-art canner with all the bells and whistles normally available on a large-scale commercial canning line, is so small that most tap room visitors have probably never seen it at all, even though it has been doing plenty of work in the last couple of weeks to prepare for last week's can release during American Craft Beer Week.
That's because this compact line is only about eight feet long and is usually hidden in the empty keg storage area during tap room hours. When the tap room isn't open to the public, it is wheeled out to the floor where every minute it will crank out 5 four packs of Broken Rudder, Techno Viking, Pushing Daisies, Millions of Peaches or my new favorite blueberry basil sour ale, People Eater.
These five beers were released in cans in the tap room during American Craft Beer Week and while not all five will be making it onto local liquor store shelves, Mark was excited to be releasing three of the five to the largest of retailers in the local market by this Friday.
When it came time to design the artwork for their packaging, Mark and Drekker called on friend and local artist "Punchgut" to give their brand and cans a look that fits the beer inside and their overall attitude towards brewing.
According to Mark, "When we started this brewery, we all brought our own skills that allowed us to do most stuff in house, right down to the majority of actual construction of the tap room. We wanted our fingerprints on this brewery as much as possible, but we also have a lot of respect for art, and in particular, local art.
We see brewing as a somewhat artistic venture and wanted the outside of the beer packaging to be as beautiful as the beer inside. Punchgut has always been a favorite of many of the brewery employees and we felt he could respond to our needs for underlying consistency across the brand.
Punchgut totally delivered artwork that fits each specific beer, visually separates them all on the shelf and has enough color and image variations to really pull your eyes in."
I would agree whole-heartedly and feel these cans really do feature some of the best beer can artwork I've ever seen and the abundance of vivid color and great contrast should make them pretty easy to spot on the shelves. There are also so many clever and interesting little "easter eggs" on the cans that you may have to really dig deep to uncover all the little details.
Speaking of details, I did want to give a little bit of info on two of their newest brews that really made a great impression on my palate. Both are currently only available in the taproom, but may be on your favorite liquor store shelves very soon.
The first beer on my sampling agenda was their People Eater, a blueberry basil sour that has been in limited production since early March and is currently available in the tap room in can packages. This beautifully purple-colored sour ale is first kettle soured, then loaded up with blueberry puree, and then conditioned on Thai basil, which gives it a full fruity flavor with deliciously refreshing herbal flavors and aromatics. It looks and smells incredible when poured into a snifter and the bursts of blueberry flavor are tempered well by the tartness and brightened with the basil.
Mark was more than happy to share the story of how this beer was inspired by a deliciously tart blueberry basil donut they found when in Portland for a beer conference. Perhaps even more than most sours, this is a beer that foodies should really love. Fans of beer cocktails might want to experiment with this one as I feel it could make an incredible whiskey sour but have yet to try it myself.
First brewed as a collaboration between Sweden's Omnipollo and Pennsylvania's Tired Hands brewers, the "milkshake IPA" style typically uses pureed fruit as well as lactose sugars to deliver the smooth, creamy mouthfeel that gave the style its name.
Drekker is quite up front about taking inspiration from the original brewed by Tired Hands, but offers up a completely different flavor profile with their newly released Coconut Killer IPA.
Hazy and full of juicy, tropical hop flavors that come from the Mosaic and Mandarina hops, this beer is loaded with an abundance of coconut and vanilla that are immediately noticed on the nose and follow through the entire tasting in a way that isn't overdone. Oats and lactose sugar give the beer a smooth creamy body that is certain to surprise those who previously thought IPAs had to be bright and bitter. Drekker cans will be available only at Happy Harry's in Fargo, Bernie's in Fargo, Royal Liquors and Empire West in Fargo, and Bottle Barn in Fargo and West Fargo to start out with, but their two new fermenters are already in operation and we may see them begin distributing to more stores by the end of the summer.