​Fargo Brewing launches RedHawks Red Lager
by Chris Larson | .(JavaScript must be enabled to view this email address) | Beer Snob | May 31st, 2017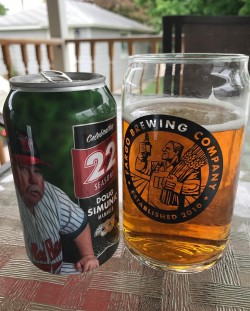 North Dakota's largest and oldest brewery, Fargo Brewing Company, has proudly announced a new collaboration brew with the F-M RedHawks baseball team.
While it is only available at the F-M Redhawks stadium, Newman Outdoor field, fans of beer and baseball will be able to get it on tap as well as purchase a limited edition commemorative can at the Fargo Brewing beer stand.
The can art features a large baseball with the beer name and team uniform logo on it and a prominent picture of RedHawks Field Manager and Director of Player Personnel, Doug Simunic. All of this is over a baseball-field grass-colored background that makes it all come alive in a way that will surely look great as you raise it in the air to celebrate a home run.
"We are excited to be included in the Fargo Brewing line-up this summer with RedHawks Red Lager," said RedHawks General Manager Josh Buchholz. "Fargo Brewing has been a great partner for the last three seasons and we are excited to expand our partnership."
The fine folks at Fargo Brewing are also cheering for their hometown team with the launch of this new beer. "This is a fantastic way to bring two great entities together. We are very proud of our partnership with the F-M Redhawks", said Aaron Hill. The Co-Founder of Fargo Brewing Company wonders, "What could go better together than great local baseball and great local beer?"
Great local beer is what Fargo Brewing Company has become known for and in my opinion, they knock this one out of the park. Vienna-style lagers are typically known for low hop aromas and low or no bitterness, but medium to large amounts of toasted or slightly roasted malts that give off slightly sweet malty flavors.
Fargo Brewing's RedHawks Red Lager uses Vienna and CaraRed malts in conjunction with Sterling hops to give a bit more of a traditional finish to this great German style. Not nearly as hopped up and bitter as their spring seasonal, Mighty Red ale, this refreshing and approachable red lager is a perfect easy-drinking summer beer with a clean yet slightly sweet finish.
The brewery did a smaller canning run of the special edition cans, so quantity is limited to around 2500 cans for the stadium and offsales. Depending on how well they sell at the ball games, we may or may not see some of the limited edition cans in local liquor stores that carry limited edition Fargo Brewing beers.
The only unfortunate thing about this sampling is that I only got one can. I guess I will just have to head to a RedHawks game and cheer on two home teams at once when I raise a cold RedHawks Red Lager towards the blue North Dakota sky and hope for a home run!