​Fargo Whiskey Fest offers whiskey from around the world
by Chris Larson | .(JavaScript must be enabled to view this email address) | Beer Snob | March 29th, 2017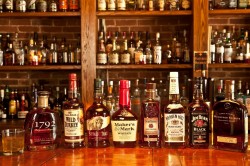 Whether you consider yourself new to the experience of drinking whiskey or are a seasoned whiskey aficionado with hundreds of whiskeys sampled over the years, you will not want to miss the 2017 Fargo Whiskey Fest at the Sanctuary Events Center on April 12th.
Republic National Distributing company, in conjunction with over twenty distilleries, will be providing samples of almost ninety different American, Irish, Canadian, and Scotch whiskeys. In addition to "neat" samples of the pure spirits, the best bartenders in town will be shaking and stirring up classic and modern whiskey cocktails at some of the eighteen different sampling tables.
I recently sat down with Josh Guy, Marketing Manager for Republic National Distributing Company, to find out what changes are in store for this year's edition of Whiskey Fest. We also took some time to discuss a few specific whiskeys they are especially looking forward to sharing this year, and a few I am particularly excited about.
The first change that will be instantly apparent is the change of venue. While the Plains Art Museum is a beautiful space that was always welcoming and accommodating, Josh feels that as a full service event center with all the bells and whistles, the Sanctuary Events Center is a place that will really help the event shine the focus on the whiskey, of which there will be more than ever this year.
Once again, there will be tables throughout two floors, but this time they have added five tables to present twenty five more whiskeys than last year. Republic is also very excited that of all the bottles sampled, fifty of them are spirits they haven't actively sampled in the local market, which means many more opportunities than ever before to try something you probably haven't yet experienced.
In addition to ultra-premium limited release American whiskeys like the Jim Beam Distillers Masterpiece: a creme de la creme product blended from the best whiskey barrels the master distiller had stored in all the sweetest spots of the rickhouse, there will also be time-honored favorites like Knob Creek (and their limited 14 yr old 2001), Jack Daniels (and their Sinatra edition), and Woodford Reserve (and their newly available Rye).
For those looking to try an interesting and unique Canadian whiskey there are offerings from Collingwood, Alberta Rye, Caribou Crossing and more. Single malt and blended Scotch drinkers will not be disappointed in a selection that includes samples from Balvenie, Glenfiddich, Highland Park, Auchentoshan, Monkey Shoulder, Laphroaig and many more. If you didn't get your fill of Irish whiskey on St. Paddy's, you will be delighted to see the presence of brands like Writers Tears, The Irishman, Tullamore Dew and the newly available Yellow Spot.
With almost 90 different whiskeys at 18 tables throughout two floors, a tasting event like this can be somewhat overwhelming, and you may be asking yourself just how to best approach the evening. To this, both Josh and I agreed there is a certain amount of finesse required.
First and foremost: be responsible and approach this as an opportunity to educate yourself and experience different flavors, not as an opportunity to drink as many different whiskeys as you can. We both suggest that when you buy your tickets, you print a copy of the list of whiskeys at http://tickets300.com/fargo-whiskey-fest-fargo/ and spend some time making a plan of attack that focuses on the spirits on the list that most intrigue you.
The order of sampling is also important, to a certain degree. Starting with something like an old fashioned rye cocktail or perhaps a small sip of Evan Williams White Label, a smooth but strong bottled-in-bond (100 proof) bourbon with simple notes of caramel, citrus, vanilla and touches of black pepper, might be enough to wake up the palate without overwhelming you with the heavy smoke and peat of something like a sample of Laphroaig.
Another great tip is to utilize the food provided by Chef's Table Catering along with water here and there to both aid you in palate cleansing as well as help you space out your samplings and make sure you get something other than alcohol in your system.
This year, there will be two different food themes with Southern-style food to pair with the bourbons and Celtic appetizers that should be ideal alongside the Scotch and Irish whiskeys.
Finally, the best tip of all is to be responsible and plan for a sober driver, or if the fest snuck up on you and you got caught up in the moment of it all and need a safe ride home, please call a ride service and do not drink and drive.
Like other Republic National tasting events, proceeds from the night will benefit a charity. This time around it is Christmas Wish, a nonprofit that assists families in need in our community with goods, services or monetary gifts to make the holiday season a bit brighter for those families who have fallen on hard times due to illness, layoffs, financial difficulties or other trying circumstances.
When else are you going to have an opportunity to sample an incredible lineup of fine whiskeys and say that you are doing it for charity?
IF YOU GO
2017 Fargo Whiskey Fest
April 12th 5:30-7:30pm
Sanctuary Events Center, 670 4th Street N, Fargo
Tickets and list of whiskeys are at http://tickets300.com/fargo-whiskey-fest-fargo/
Non-drinker/DD tickets are available at the door