​Flatland brews begin to flow outside of their taproom
by Chris Larson | .(JavaScript must be enabled to view this email address) | Beer Snob | February 15th, 2017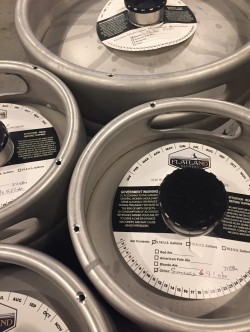 For the first time since they opened their West Fargo taproom last July, Flatland Brewery is now bringing their beer to your favorite ale houses and offsales through a series of tap takeover events in February and March.
When I last visited with brewer Frank, back in October, they had just expanded their tap room hours and were getting comfortable maintaining a steady flow through their twelve in-house taps.
This time around, I spoke with Chris Markwardt, a managing partner of Flatland Brewery, to get the full story of where and when we will see their beer flowing from local watering holes and offsales. The first of these events will already have happened by the time you read this; those who were at JL Beers in West Fargo last weekend may have gotten a pint of one of five different brews they had available for their first tap takeover on the 10th.
This Friday the 17th, from 4 to 7, a representative from Flatland will be at the West Fargo Bottle Barn Liquors where they are making four different beers available for pressurized growler fills, including their delicious Pepper Nuts Holiday Brown. This winter holiday ale is based on the Brewmaster's grandma's pfeffernusse cookie and is fortified with honey from Bees@Work in Jamestown. Even though the holiday season is long past and warmer weather is on the way, this beer is certainly something to seek out and grab a growler of before it's gone for the year.
Other beers set to be tapped at the Bottle Barn include one of their most popular flagship brews: The Flatlander, an Irish Style Red Ale. It is also quite popular amongst the staff at the brewery too. According to Chris, "My favorite seems to change every week, but I keep coming back to the Flatlander Irish Red. It amazes me how you can put yellow and brown malt in the mash tun and the end result is red and I prefer malty beers." An easy drinking 5.1% abv and only 18 IBU's, this version has hints of chocolate and coffee that come from roasted barley and caramel malts.
The following week, on February 21st, the Sidestreet Grille and Pub will be host to a special Flatland Cask event where those on the hunt for special casked versions as well as some of Flatland's tap room favorites.
Future events are tentatively scheduled for other locations throughout town, including JL Beers in South Fargo, and you can expect to see other offsales begin pouring Flatland brews through their growler stations soon.
For those who aren't able to attend any of the tap takeover events, fear not, Flatland will also be pouring several beers at the Bacon and Beer festival at the Scheels Arena on March 4th.
YOU SHOULD KNOW
West Fargo Bottle Barn Tap Takeover Friday, February 17th 4pm
3179 Bluestem Dr, West Fargo