​Junkyard doubles its brewing capacity
by Chris Larson | .(JavaScript must be enabled to view this email address) | Beer Snob | January 18th, 2017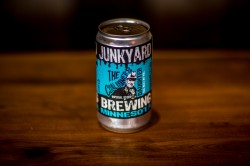 When Aaron Juhnke first began his hobby of homebrewing with canning jars, he had no way of predicting he would be in the position he finds himself in today. What started as a way to experiment, as well as ensure a regular personal supply of flavorful beer, has now turned into a major juggling act as he works diligently, expanding the brewing capacity of one of the area's most popular and most talked-about breweries.
Shortly after relocating in the summer of 2014, Junkyard increased their capacity with their current three-barrel system, that has a 32-barrel fermentation capacity. Despite the expansion, they quickly realized they were going to need to expand again in order to keep their taproom stocked and allow for their extremely popular crowler can releases. And so, on this particular day I had to steal Aaron away from a welding project related to their newest expansion, and as he joined me for a beer break, I got the lowdown on what the new year could hold for the future of Junkyard Brewing Company.
Though they currently have a diverse and experimental lineup constantly rotating through their taps and have moved their periodic can releases to weekly events, Junkyard is looking to increasing their presence in the local markets and working towards self-distributing their can releases to select retail establishments in the near future. To achieve this and look beyond to more distribution of kegs in the local market, Aaron and the crew at Junkyard are hard at work on a ten-barrel brewhouse with 40 barrels of fermentation capacity, that will more than double the flow of beer and open up opportunities for more and more beer lovers to enjoy their products both inside and outside of the taproom. And while there are no current solid plans to expand the taproom space, the new brewhouse should be online by spring and the immediate focus will be more and more of their precious crowler cans.
One thing the expansion will not mean is "flagships," and even bringing it up with Aaron, I can tell it is something he is asked about frequently and that they are quite unrelenting in their resolve to focus exclusively on experimental, adventurous brewing.
While Junkyard is maintaining a solid focus on frequently rotating tap lineups and a commitment to experimental brewing first and foremost, you can expect to see more of your favorite beers on a more regular basis as the old system will be freed up to brew mostly experimental brews and the new system is used for bringing back old recipes and/or brewing up can releases.
And let's talk about those can releases, as they have become popular events for local beer hunters, with dozens of people standing outside of the brewery, despite the weather, to grab a box full of beers like Peanut Butter Bandit, Coal Miner's Daughter, Citrazaic, their experimental sour offerings, their new Shake-O-Matic series, or others.
While it's great that we will be seeing more of their cans and even better that they will eventually be available throughout town at local offsales, their taproom on 1st Avenue North and 14th street in Moorhead really is worth a visit, any day of the week.
They feature live music from local talent every single day of the week, including Sundays where they always do something special for what they call "Beer and Hymns." With music more focused on classics, gospel, and bluegrass, Sundays can range from religious to secular and sometimes musical groups from local churches will come in and really get the hymns flowing like beer.
Sunday the 22nd is Good Shephard Lutheran night, which according to Aaron is always top-notch musical talent and something worth noting on the calendar. Both their music schedule and tap lineup can be found on their facebook page, where they also post can release events.
You can also drop them an email at junkyardbrewingco@gmail.com to be added to their email list for updates on can releases and new beers. Monday through Thursday they are open from 4pm to 10pm, Saturday hours are noon to midnight, and Sundays the taproom is open from 2pm to 10pm.