​Local craft brewers see no shortages of hops
by Chris Larson | .(JavaScript must be enabled to view this email address) | Beer Snob | March 22nd, 2017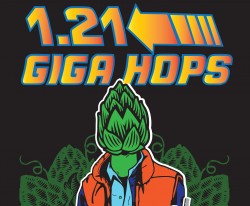 It was right around this time last year that news articles around the world were spreading fear about a looming hop crisis. Supposedly driven by an overwhelming influx of new brewery startups, as well as the American craft beer consumers desire for ultra hopped-up brews, there was a hop crisis in the making that would result in both huge spikes in hop prices as well as possible shortages of some of the most commonly used hop varieties. Stories were coming from a wide variety of media outlets including major news organizations as well as industry publications like Growler Magazine.
So there I was, one year later, sitting down with Zachary Click, the Operations Manager at Fargo Brewing Company to get his take on the hop game and whether or not it has impacted either production or pricing of their locally crafted beers. Not only was I somewhat surprised to find out that the fuss about a hop "crisis" in the near future was mostly overblown but I was perhaps more surprised to learn that Zach and Fargo Brewing currently have hop contracts signed that take them well into 2020.
During a conversation over a "Green" Dad's Pale Ale, he explained to me how securing the contract for that long in advance means that both the brewery and its customers can rest assured that their favorite recipes will be consistent from year to year, with all the flavors added by popular hop breeds like Citra and Mosaic.
For the most part, the hop market responded to the need with a large influx of new hop farms and farmers as well as new experimental hop varieties to take some pressure off the demand for the same old varieties. When it comes to those extremely popular hop varieties, yes, prices have increased over the last few years and some major breweries are making moves that many in the industry see as attempts to mitigate costs and keep their hopped up pale ales profitable and affordable.
Just this year, New Belgium brewing completely revamped the recipes of its popular Ranger and Rampant IPAs and reintroduced them as their Voodoo IPA series. While the recipes do still contain the increasingly popular Mosaic and Amarillo hops, there is no mention of Citra hops and like many others, they are using additions of hops like Calypso, Bravo, and Delta that are not nearly as in demand and probably were easier to secure affordable contracts for.
There are rumors in the industry that California craft giant Sierra Nevada (who like New Belgium also now operates a second facility in North Carolina) is considering retiring their beloved Hop Hunter IPA, which is brewed with steam distilled hop oil and whole cone hops, both ingredients that have seen rather large demand and notable price increases recently.
Fargo Brewing is responding to the hops market's somewhat unpredictable nature by not only securing long-term contracts to keep popular recipes intact for years to come, but by familiarizing themselves and their customers with lesser-known and experimental varieties of hops. Some are so experimental that they have yet to be given names and are still referred to as numbers.
Fargo Brewing recently finished their first run of what Zach hopes will become a recurring theme with their "Noch Ein Bier" Single Hop Series that featured 4 distinct German varieties of hops, added separately to the same malt bill to present 4 different clear and concise comparisons of each hop's flavor profile. They are also looking forward to highlighting both classic and experimental hops by augmenting their newly popular Dad's Pale Ale and the "Green" Dad's Pale Ale we enjoyed during our conversation about hops.
Perhaps rather than retiring beloved brands or changing out recipes, brewers that are unable to secure large enough contracts for their needs will move these beers to very small annual releases, which are great ways to generate excitement for special brews that are often too resource-intensive to be very profitable.
Locally, we have one of those beers that is so overloaded with ridiculous amounts of hops that it only gets released once per year in very limited quantities. A great day for local hopheads who yearn for a balanced beer that is bursting with huge hop flavors from Chinook, Horizon, Cascade, Mosaic, Falconer's Flight and Falconer's Flight 7C's is fast approaching.
Fargo Brewing Company will once again be throwing a 1.21 Gigahops release party at the brewery, with music from Pat Lenertz, The Cropdusters, and a tribute to Huey Lewis and the News by the Moody River Band.
YOU SHOULD KNOW
1.21 Gigahops Release Party
Thursday, April 20
Fargo Brewing Co., 601 University Dr N, Fargo, 701-478-2337
Tickets at the brewery, at the ale house, 4445 17th Ave S, 701-205-4188 or squareup.com/store/fargobrewing/.