​Mead: an ancient wine for gods and lovers
by Chris Larson | .(JavaScript must be enabled to view this email address) | Beer Snob | February 8th, 2017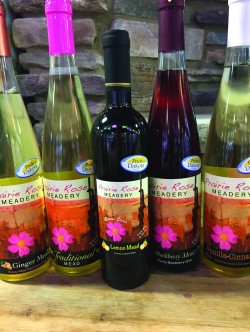 On the day of our wedding, my wife and I were given a simple hand-made wooden box by a couple of dear friends. Inside the wooden box was a pair of goblets and a bottle of mead and inside the lid of the box: a story of the origins of the word "honeymoon."
According to Susan Ruud, co-owner and operator of Prairie Rose Meadery, "There has long been the belief that mead was served to a newly married couple for the first month after marriage to ensure the birth of a son. (honey = mead) (moon=month) -- thus the term Honeymoon."
While this origin of the term honeymoon dates back to the 5th century, honey wine or mead has been around far longer than that, with some scholars tracing its history back nearly 8,000 years to the Isle of Crete and a time before wine was ever made from grapes. Tales of gods drinking powerful wines fermented from honey are present in the stories of Norse, Greek, Roman and Indian gods. Virgil, Aristotle, and even the Bible make more than one mention of the heavenly nectar and it is commonly associated with romance and lovers.
Extremely popular in northern Europe until transporting and especially importing grape wines became more economically feasible, mead had becoming increasingly difficult to find until recent years, when a growing interest in handcrafted and small-production beverages has brought more and more mead options to your local wine stores. Here in Fargo, part of that growing interest has been encouraged by a relatively new producer of excellent local meads, Prairie Rose Meadery.
For the last year and a half, Susan and Bob Ruud have been producing a variety of award-winning meads right here in Fargo, at 3109 39th St S, Suite E. Currently, they offer up 17 different Bottled Meads: one just honey (traditional mead) - several fruit meads (Apricot, Lemon, White grape, plum, blackberry, cherry, strawberry-rhubarb), several spiced (ginger, vanilla cinnamon, mint, star anise) and several mixed fruit/spiced (Chocolate Orange, Chocolate-Raspberry, Roasted Pineapple-Chipotle, Orange spice, Raspberry spice).
They also have an apple mead that is only available on tap. In just a year and a half, they have secured placement at major retailers in the local market and you can find several different varieties of their meads at the Bernie's, Bottle Barn, and Happy Harry's.
If you are looking for a unique experience this Valentine's Day, Prairie Rose is offering a special mead- and dessert-pairing event on February 14th. They are teaming up with Nicole's Fine Pastries to offer three meads paired with three separate desserts. There will be three sessions of very limited seating to keep things quiet and intimate. Each person in attendance will choose a full glass of mead.
Tickets are $17.95 per person and reservations can be made at 701-371-3690 or via email at meadmkr@far.midco.net. Session times are 5pm, 6:30, and 8pm so that those with dinner plans can choose to come in before or after for some sweets with your sweetie.
They also rent space for corporate or private events of up to 30 people on Monday through Wednesday, and their tasting room is open to the public on the weekends. Thursdays and Fridays you can visit them from 4 to 10pm, on Saturdays they are open from 11am to 11pm, and on Sundays they are available from noon to 6pm.