​Nick Goldschmidt kicks off special dining experiences
by Chris Larson | .(JavaScript must be enabled to view this email address) | Beer Snob | February 22nd, 2017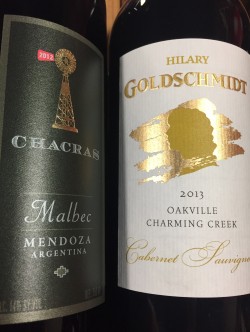 When an opportunity to meet, dine and drink wine with a winemaker of Nick Goldschmidt's stature was presented to me, I just had to seize it without hesitation and book a Valentine's Day Dinner at The Boiler Room.
I had briefly met Nick five years ago, during his last visit to the market and have enjoyed his small production, world class, single vineyard wines ever since he first poured me a glass -- but a wine dinner of this caliber at the Boiler Room was not only a new experience for me but for the restaurant as well. They were more than excited for the chance to pair their food with Nick's wine and rose to the challenge with impeccable table service, a somewhat secluded section of the restaurant and a menu that intentionally took a supporting role in featuring a great selection of incredible wines from the Goldschmidt portfolio.
Even the first glance at the menu made this apparent, with simple courses that included mediterranean grilled shrimp served cold with hummus, paired with a delightful Forefathers sauvignon blanc and a subdued dessert course offering of a cheese platter with nuts and fruit that served to highlight the subtle complexity of Nick's Hilary Goldschmidt Oakville Cabernet Sauvignon.
While I usually enjoy rich chocolatey sweetness with a perfectly crafted cab, the simple platter seemed to present the idea of cabernet as a dessert in and of itself which is a concept I wholeheartedly endorse, especially when it's a cabernet of this quality. If you have had a taste of the famous Opus One, you have enjoyed the same grapes that go into a bottle of Goldschmidt's Hilary Oakville Cabernet. Sourced from the same vineyards in Charming Creek, a bottle of Hilary Oakville Cabernet is usually found at local retailers for $35 retail compared to the wallet busting Opus One which can cost six times as much.
Not only does he source from legendary vineyards. Nick Goldschmidt is often known in the industry as the most famous winemaker you've probably never heard of and his opening introduction included a long list of ties to the most famous names in the wine world, including Zelma Long, who was the first woman to take leadership of the Simi winery and also founder of the American Vineyard Foundation.
With a deep connection to the history of winemaking, Nick is looking towards the future and is currently pursuing winemaking taken to the extremes, literally. His current endeavors include farming grapes in high altitudes as well as extremes of latitude and longitude in an attempt to find new characteristics and interesting qualities worth exploring and imparting into commonly consumed wine varieties.
If all of these endeavours result in wines like his Chacras malbec, grown in the higher altitude and cooler climate of Mendoza and packed full of complex fruit flavors, then Nick will certainly continue to set himself apart as a creative force in the world of wine.
Though dinners with the actual winemaker are quite rare in our local market, there are frequent pairing dinners offered by many of the great local restaurants and they are always very enjoyable occasions where the wine or beer flows freely and new friendships often form.
Being that we have several great regional and local breweries, it is usually much more common to hear of special dinners paired with beer, and as luck would have it, there are several upcoming ones worth mentioning. Junkyard has teamed up with Luna for a beer and cheese pairing event on March 13th that has sold out, but they also have a dinner with Fargo Brewing Company and Odell at Luna on March 1st -- call Luna for reservations.
Drekker has partnered with the HoDo for a three course dinner featuring five Drekker brews that will take place Tuesday, March 14th.
Twist will have a Spanish wine and Tapas party on Sunday April 9th.
Minnesota giant Surly has a beer dinner in the works with The Boiler Room that will be hosted at the Sanctuary Events Center, but a date has yet to be set. Keep your eyes and ears open for an announcement regarding tickets in the very near future.