​Session ales for sunny days
by Chris Larson | .(JavaScript must be enabled to view this email address) | Beer Snob | April 12th, 2017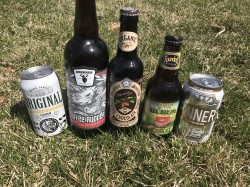 Spring is officially here and of course that means spring cleaning, yard work, grilling and socializing outdoors. Often this also means more time with friends or family in situations where you may want to have more than just one or two beers.
Historically, these beers were probably very light, fairly flavorless but just as refreshing as a glass of cool water. This spring and summer, thanks to an ever-expanding market of "session" beers, you no longer have to sacrifice flavor in favor of responsible consumption.
The origin of "session ales," like most beer stories, is questionable. What is most commonly accepted as its roots is that in England during WWI, workers were allowed to drink on the job, but regulations specified they were scheduled for two four-hour sessions of work per day.
Drinking for four hours straight while assembling weapons for the war would have been utterly catastrophic had they been allowed to consume the standard higher alcohol porters and stouts that were common in that time period, and so a new, lighter, lower-proof brew was needed to keep the workers from losing too many fingers and toes, I presume.
While there are some porters and stouts that fall between the 3.5% and 5% ABV guideline for a sessionable beer, the modern "session ale" revival has been mostly focused on providing hop-forward IPAs or traditional German styles like Kolsch and Helles, which are pilsner-like brews that are typically known for being light, crisp, and quite "crushable."
I expect that this summer will bring a few more new sessionable beers to our local market and I encourage you to give them all a try, but for now I will leave you with a list of some of the ones I most commonly recommend to my customers who are looking for a beer for their next session.
Founders All Day IPA - Like most session beers, this one was brewed so the brewer could drink a beer that he himself would get great satisfaction from and be able to crush cans of all day long. A complex mix of malts, grains, and hops brings huge, bold, IPA flavors to a beer that is very easy to drink and comes in at 4.7% ABV
Oskar Blues Pinner Throwback IPA - Again, a variety of hops and malts are expertly melded in this powerful citrus explosion in a can. Fans of passionfruit and blood orange should look for their summer seasonal infusion known as Passionfruit Pinner for even more citrus flavor. 4.9% ABV
Fargo Original Lager - A helles-style lager that, even though it isn't technically sessionable at 5.1%, is still one I consider a session beer, due to its absolute crushability. Nothing complicated about this beer and its crisp, light, clean finish is always refreshing on a sunny day.
Samuel Smith Organic Chocolate Stout - This sweet stout is perfect for pairing with a rich maduro cigar and at 5% ABV, you can even have two. Smoking ribs while drinking a couple stouts and smoking a cigar, could there be a better way to spend a Saturday?
Drekker Coffee Rudder - An Irish Red with beautiful toasted caramel malt flavor and touches of honey that mingle with the coffee from 20 Below Coffee to bring a flash of sweetness before a clean dry finish. Another great beer for pairing with a cigar and at 5% ABV, you can drink the entire 22oz bomber bottle in a session and still not be too sauced to run the lawnmower.