​Shandys and Radlers aren't just for summer
by Chris Larson | .(JavaScript must be enabled to view this email address) | Beer Snob | March 8th, 2017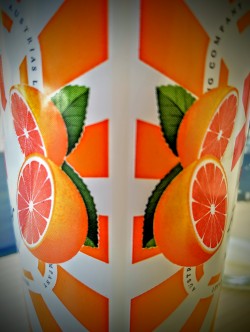 Last week I wrote about the beer cocktail and there was one specific beer cocktail that was left out of the discussion completely, with intent. The history of mixing beer and soda, lemonade or fruit juice (usually a half and half mix) dates back to the early 1900s in Germany and is called either a "shandy" or a "radler." Lower in alcohol, with some even coming in at or around 2% ABV, they are usually bursting with so much flavor that any beer taste is usually completely buried or barely perceived.
In recent years, it has become so popular in the States that a few companies have been packaging one or several varieties of this beer cocktail and seeing ever increasing sales. While typically thought of as a summer drink, many consumers find a good shandy or radler tasty year round, and producers like Leinenkugel's and Traveler Beer Company respond to those consumers by offering a wide range of seasonal flavors that change from year to year.
For at least a decade liquor store customers have constantly asked me "When is Leine's going to make Summer Shandy year-round?" While it is not quite year-round yet, when it showed up in our store last month, the earliest it's ever been released, our customers went berserk. Nearly every store in the market as well as the local distributor ran out of stock within a week.
Quite obviously, in our local market, Leinenkugel's Summer Shandy, a lemonade and beer mix, receives the lion's share of attention but there are several other shandys or radlers that are available year round or seasonally that you may find interesting and enjoyable, especially when looking for a lower alcohol beverage packed with citrus.
The Traveler Beer company also offers a lemon shandy, called Curious Traveler, seasonally which we should see arriving to our market soon but like, Leinenkugel's they also offer a year round grapefruit shandy. Before the summer seasonal lemon shandy becomes available you may still be able to find some of their orange/pomegranate spiced winter shandy, known as Jolly on tap or in select off sales. Personally, I enjoy the spices and the tartness of the pomegranate more than most shandys which can be overly sweet, and I find it is one of their best offerings of the year.
Another less sweet option is also one of the more globally popular offerings. Hailing from the Stieglbrauerei zu Salzburg brewery in Austria, it is overloaded with great natural citrus juice flavors.
Stiegl Radler is a grapefruit soda beer that not only has natural grapefruit that hits you right away but brings in touches of orange peel and even a light finish of lemon that refreshes the palate and begs you back for another taste. It is without a doubt less sweet than the previously mentioned brews and at only 2% abv, a 4-pack of 16oz cans is perfect for assisting with your spring clean-up chores on a sunny day.
Finally, this year you should be seeing more and more of a great local favorite in the shandy market. Fargo Brewing Company will be sending out more kegs of their extremely popular Kenny's Lemonade than ever before and it should be arriving on tap even earlier than last year. Expect to see the return of many of their popular fruit, floral, and botanical infusions of Kenny's Lemonade at special events and outdoor parties throughout the summer, as they go full-force with this low abv shandy that uses their Fargo Original Lager.