​Summer wine season means a variety of rosé
by Chris Larson | .(JavaScript must be enabled to view this email address) | Beer Snob | June 7th, 2017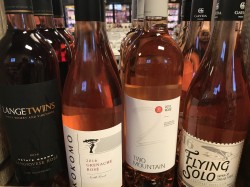 One of the true pleasures of spending nearly two decades in the local beverage industry is that I have seen so many changes within our market over the years. Driven by a strong local food movement, an influx of local breweries, wineries and even a distillery, the adult beverage crowd has begun to elevate their tastebuds.
Thankfully, our great local distributors have responded to this elevation of the wine, beer and spirits scene with a new abundance of great products and this year, good rosé wine seems to be positioned to make a very big splash at lake parties, backyard barbeques, and patio parties all over the region. We certainly have far more great options than ever before and most retailers have set up displays that feature a sizable selection of the great summer sipper: rosé.
Typically lower in alcohol than the full bodied red wine grapes they are derived from, this style of wine is just perfectly suited for "porch pounding," sipping in the hot summer sun, or mixed into a great summer cocktail.
Because rosé can be made from a variety of red grapes, each Rosé often has its own unique personality, but one consistency throughout all of the ones I have tasted and will mention below is the incredible thirst-quenching capabilities.
Most rosé is made by lightly crushing the grapes and allowing them to macerate with the red grape skins on for just a short while. Typically, this maceration can be anywhere from a few hours to a couple of days and the length of time has almost everything to do with how dark the color of the finish product is. The juice is strained from the must and then fermented in tanks to become rosé.
One of the darkest available in the local market, LangeTwins Sangiovese Rosé is bursting with crisp, light fruit and floral notes on the nose that lead into strawberry on the palate. The strong strawberry notes continue through the crisp and refreshing finish. Like any great rosé the finish begs you back for another taste and it's quite easy to finish the glass and reach for the bottle to pour another. Most retailers that carry this wine will have it priced just under $15.
Kokomo uses Grenache Noir grapes from Dry Creek Road to make its 2016 KokomoGrenache Rosé. The nose begins with a very summer blend of watermelon and strawberry that are joined by subtle touches of peach, more melon, and strawberry juice in the glass. Plenty of minerality and perfectly pleasing acidity bring a vibrancy to a nice long finish, which really helps call you back for another taste. At $19.99, this one is a bit more expensive than most rosé options, but the winery sells out quickly every year and come midsummer, most retailers are out of stock on this one. Grab it soon if you want to try this delicious gem of summer.
Two Mountain winery blends Cabernet Franc and Cabernet Sauvignon in nearly a 50/50 ratio to bring about their Rosé, Yakima Valley. Opening up with the very common strawberry on the nose, this one has not only floral notes but I sensed some raspberry as well. The raspberry quickly shifts to cranberry with a hint of rhubarb as the acidity in the body becomes quite evident and stays prominent through the finish. This one, with all its bright acidity, would pair excellently with barbecued red meat of any variety and might be just the right rosé for those who would normally drink Sauvignon Blanc in the summer. This one is on local shelves at the common rosé price point of $13.99.
Flying Solo claims that they fly in the face of convention by shunning international varieties in favor of what is typically known as a Mediterranean grape, the Grenache. While they aren't truly alone in making grenache rosé. Their 2016 Grenache Rosé uses Cinsault which is very widely used in French rosé from Provence, but not all that typical outside of France, and not that frequently used in conjunction with Grenache. This wine really does have some unique characteristics, especially its slightly creamy mouth feel that persists throughout the entire tasting. I'm not even close to aware of how they achieved such a creaminess but it even comes through on the nose where the strong strawberry aromas come across as strawberries and cream before leading into a slightly acidic middle that finishes in balance with the abundance of summer fruit essences. Very reasonably priced, most retailers will have this one for $9.99 to $11.99, depending on whether or not it is on sale.