A different angle on security and your computer
by Chuck Solly | .(JavaScript must be enabled to view this email address) | Culture | April 5th, 2017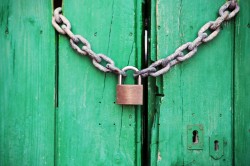 Are you a risky computer user? At times I think we all are. Connecting to public Wi-Fi networks, for example, is a common practice, but these are also excellent avenues for attackers to snatch your personal information.
Now we have a solution. VPN stands for virtual private network. These services use simple software to secure your internet connection and give you greater control of how you appear online. You can even use them to stream Netflix from other countries. While you might never have heard of VPN services, they are valuable tools that everyone should have at their disposal.
Here is the best way to explain VPN services: If your car pulls out of your driveway, someone can follow you and see where you are going, how long you are at your destination, and when you are coming back. They might even be able to peek inside your car and learn more about you. With a VPN service, you are essentially driving into a closed parking garage, switching to a different car, and driving out, so that no one who was originally following you knows where you went.
I do want to emphasize here that VPN services are NOT foolproof. A determined adversary can almost always breach your defenses in one way or another. Using a VPN can't help if you download ransom ware on a visit to the dark web. What a VPN can do is to protect you against mass data collection and the casual criminal hacker vacuuming up user data (credit card numbers, passwords, etc. for later use.
If you are a traveler and use public Wi-Fi networks, such as those at hotels, airports, and coffee shops, you may want to consider a VPN. They also cloak your computer's actual IP address, making it harder for advertisers (or spies, or hackers) to track you online.
I am told that journalists and activists rely on VPN services to circumvent government censorship so they can safely communicate with the outside world. Of course, doing so may be against the law, depending on the country in which they're located.
Legitimate and semi-legitimate scenarios for VPN use abound. What if you're a student whose college requires a secure connection to the school's costly subscription databases?
What if you're using BitTorrent (part of the "Dark Web") to download legal content (of course) but don't want to run the risk of getting accused of downloading something you may not have intended?
What if you're an American paying for a music streaming service and you travel abroad for a month to a country that restricts your content?
These are, of course, examples and I don't think many of you in the F-M area will need a VPN service anytime soon, but it is always good to be informed.
There are several dozen VPN services on the internet and as with any other area of the internet, please read about them if you think that you need one. Most will slow down your internet connection but there are several who claim to actually speed it up. However, networks large and small will vary and change from day to day.
Even if you don't use it every moment of every day, a VPN is a fundamental tool that everyone should consider buying—like a password manager or online backup service -- and one that will only become more important as our devices become more connected.