​A kaleidoscopic experience at the fair
by John Showalter | .(JavaScript must be enabled to view this email address) | Culture | August 2nd, 2017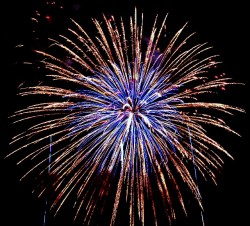 Fireworks are ubiquitous. Ever since these colorful testaments to man's fascination with and control of fire were invented in China many centuries ago they have spread across the world. In the time since, pyrotechnics have evolved into a full-fledged science.
Nowadays they are synonymous with celebration, an obvious example for Americans being Independence Day on the Fourth of July. Another example that may be familiar to those in the FM area are the shows put on about every four years at the Red River Valley Fairgrounds by the Pyrotechnics Guild International, or PGI.
This year PGI will be conducting another in a long line of impressive fireworks displays over four evenings at the Red River Valley Fairgrounds in an event they call "Kaleidoscope of Fire": Sunday August 6th, Tuesday the 8th, Wednesday the 9th, and Friday the 11th.
PGI has held conventions in Fargo and West Fargo about every four years since the 90s with the occasional back-to-back conventions. In fact, according to Dan Creagan, the PGI representative I had the opportunity to interview regarding the upcoming show, Fargo, West Fargo, and the RRVF fairgrounds are some of PGI's favorite places to go. "We enjoy the people, the fairgrounds support, and the entire atmosphere that the people of the area provide."
Creagan has served with PGI in multiple capacities since he joined back in 2006, from manufacturing chair, to 2nd vice president, to president, and currently on the communications team. Though he says there are over 2,500 people in the organization, there is a core of about 60 people who volunteer to work incredibly hard to make fireworks conventions happen, some of whom have been with PGI since its formation.
The Pyrotechnics Guild International is an organization that was founded back in 1969 by Max P Vander Horck. Before founding PGI, he had been publishing a monthly newsletter about fireworks called "American Pyrotechnist." His love of fireworks led him to found an organization devoted not only to educating fireworks enthusiasts about the art of pyrotechnics, but also the public, politicians, and media.
With the announcement of membership being opened for Pyrotechnics Guild International in the March 1969 issue of his magazine, the organization was born. Membership continued to expand with representatives from all walks of life, a formal charter and bylaws were drafted, and PGI made the transition from Pyrotechnics Guild International to Pyrotechnics Guild International, Inc.
The emblem for PGI contains a figure called the "Green Man", whose name is taken from a fireworks treatise penned in 1635 by John Bates called "The Second Booke". In his treatise, Bates described how the eponymous "Green Men" were appointed by a "Fire Club" to conduct celebrations. The Green Men's moniker referred to their practice of covering themselves with fresh green leaves while using their handheld fireworks as a primitive form of fire protection. The decision to use the figure calls to mind the long tradition of fireworks being associated with celebration and members of PGI even often refer to themselves as "Green Men."
Creagan says the organization has evolved from an almost ad hoc meetup to an international organization that promotes safety, entertainment, and family values. "I have watched many young people grow into responsible and independent adults during my affiliation with the PGI."
PGI's conventions are usually held in the Midwestern and Middle Eastern states in order to allow those from the coast to be able to make it to the conventions. They not only concern themselves with conducting fireworks displays, but even align with other national organizations and help draft national fire codes on committees. Their commitment to the safe usage of fireworks means that they regularly educate first responders, police, firefighters, and EMTS about the proper usage of pyrotechnics.
This year's event has many sponsors, one of whom is Bobcat, the producers of heavy machinery. "Without their help we would be out thousands of dollars just on the equipment it takes to prepare such a large event," said Creagan. All the sponsors will be listed off during the presentations at the fair. The tickets for the event are sold separately from the tickets for the fair itself (which will be over by the time Kaleidoscope of Fire goes on) and can be found on the RRVF web page. Each of the performances will be about two hours long and, according to Creagan, include fireworks not normally seen in any local display and promises that they will be "world-class".
When asked why fireworks are so important to him, Creagan replied, "They are an expression of our American values and have been here since the nation was born." He said he thought a quote by former president John Adams regarding Independence Day summed up this sentiment the best, "I am apt to believe that it will be celebrated, by succeeding Generations, as the great anniversary Festival. It ought to be commemorated, as the Day of Deliverance by solemn Acts of Devotion to God Almighty. It ought to be solemnized with Pomp and Parade, with Shews, Games, Sports, Guns, Bells, Bonfires and Illuminations from one End of this Continent to the other from this Time forward forever more."
Of course, before finishing up the interview, Creagan was eager to share a few tips about fireworks safety with the amateur fireworks enthusiasts among us. "Always treat all fireworks with respect," he said. He discussed how it is important to mitigate all risks surrounding fireworks by wearing the appropriate clothing and eye protection, never letting children use them unsupervised, and never setting them off in an unsafe area.
A common misconception is that when fireworks are done sparking is that they are 'out,' but they should be treated like a slow-burning fire. And of course, despite the two often getting used together with tragic results, alcohol and fireworks do not mix.
Of course, if you're planning to go to "Kaleidoscope of Fire" the experts will be handling all the difficult parts. All you might want to do is bring some earplugs. Other than that, prepare to be dazzled.
IF YOU GO
45th Annual Convention "Kaleidoscope of Fire" at RRVF
August 6, August 8, August 9, and August 11,
1805 Main Avenue West West Fargo