​A TechSpark of creativity in North Dakota
by John Showalter | .(JavaScript must be enabled to view this email address) | Culture | December 13th, 2017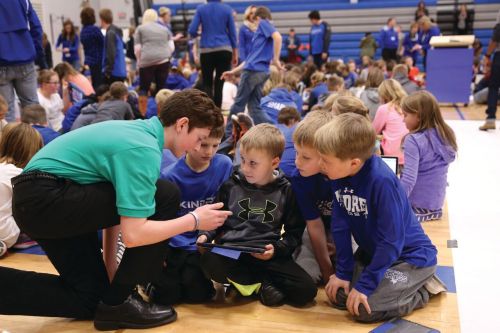 Ever since the Industrial Revolution, human technological advancement has been occurring at an unparalleled pace. Just as innovations such as the steam engine and electrical lighting have caused paradigm shifts in human life, so has the advent of the computer, and following that, the internet. Computers have pervaded industry and the workforce, creating new jobs and making tasks easier.
However, the change has occurred so quickly that naturally some have been left behind wondering what happened, lacking the skills to compete in today's workforce. Someone my age would have a hard time imagining the job market of several decades ago, when computers were not all-pervasive, and an employee from only twenty or thirty years ago might well be flummoxed by what some of us find so natural.
That is the issue that Microsoft's "TechSpark" program hopes to address and alleviate. "Many of us went to school when technology wasn't as pervasive, so those skills weren't taught," said Taya Spelhaug, the North Dakota Manager of Microsoft's TechSpark initiative. "Through Microsoft's TechSpark initiative and investments in computer science initiatives, we aim to empower more people with the digital skills required to thrive in their careers, whether they're still in school or already in the workforce."
The increasing pervasiveness of computer technology in the workforce has been spreading even to industries that previously did not see much use for it, such as Fargo economic mainstays agriculture, manufacturing, and health, already undergoing a transformation more inclusive of the role of computers.
For example, a farmer may use computer-aided sensors to monitor attributes of their farmland such as soil moisture, to determine when to plant their crops for maximum yield; or manufacturing companies may use high-precision cutting tools that run on code.
Despite this fact, there is plenty of opportunity to improve access to computer science skills, not just for students but for adults already in the workforce. Spelhaug laid out some humbling facts about the current need for improved computer literacy. 40% of schools in the United States still do not offer courses in tech or computer science.
Too few people graduate with computer science degrees annually to fill all the available jobs, including teaching positions. Last year, the state of North Dakota did not graduate a single new teacher able to teach computer science from its universities. "Many of us went to school when technology wasn't as pervasive, so those skills weren't taught," said Spelhaug.
TechSpark is still in its early stages in North Dakota, but Spelhaug says the initiative is part of a longer-term commitment to bring programs to the community to improve digital skills and empower the economy.
On Friday, December 8, Microsoft partnered with the 4-H Program at Kindred Elementary School in Kindred, North Dakota to bring "Hour of Code" to the students. The activity was in celebration of the larger "Computer Science Education Week," an annually occurring global event where millions of students spend an hour learning how to code.
Altogether, 450 students got together to use a free tutorial provided by the initiative, "Minecraft: Hero's Journey" (based on the wildly popular computer game, obviously) and had a hands-on opportunity to see firsthand the applicability of coding knowledge.
4-H youth volunteers led the activity and ND Governor Doug Burgum joined the students at Kindred's "Hour of Code" event.
"Kids today are digital natives and I think they had fun seeing how the games they play are controlled using code. Coding, and computer science skills, more broadly speaking, are key competencies for today's students, as studies show that future jobs and even today's jobs are becoming increasingly digitized," Spelhaug said.
Given the success of the event, Spelhaug has high hopes for the future of TechSpark in Fargo and North Dakota at large. "You can expect to see more from us in the near future!" she said emphatically; and with an increasingly digitized society, that sounds like a promise.