​'Amerigeddon,' with Christopher Titus
by John Showalter | .(JavaScript must be enabled to view this email address) | Culture | November 29th, 2017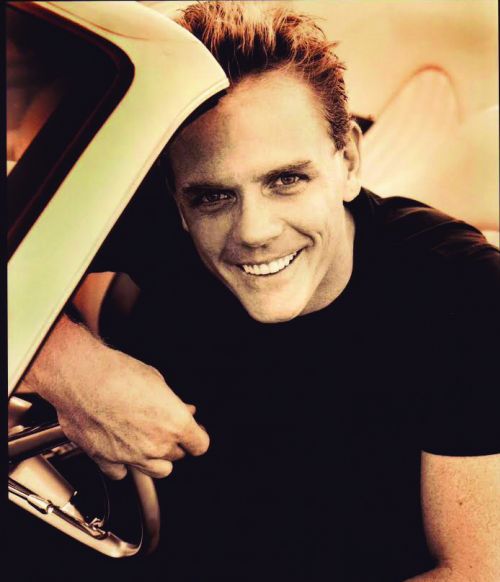 Christopher Titus is never one to shy away from rattling cages. The most memorable comedians are the ones that walk that tenuous line between insanity and hilarity, between having the audience busting their guts laughing and rioting in the streets. Perhaps it's that quality that made him stand out to me when his eponymous show "Titus," about a semi-fictional version of himself, aired on Fox for three seasons, back in 2000.
It was truly a sitcom ahead of its time. Here I saw a man who joked about subjects other network shows wouldn't even touch, from his mother's institutionalization for mental illness to his father's alcoholism and abusiveness. And the thing was, he was able to do so in a way that was full of both hilarity and humanity. He was able to switch from being funny to serious on a dime and never seem inauthentic. I've followed his career ever since.
His stand-up comedy is done very much in the same spirit, and with even less filter. His newest stand-up special, "Amerigeddon," is his eighth. He has lost none of the confrontational quality that has made him a stand-out figure in stand-up comedy. From the start of our interview he was energetic, off-the-wall, and opinionated.
"How's the weather there?" he started off our conversation with. "Cold, about thirty degrees. Last week it was a balmy forty," I said. "Thank God for global warming, am I right?" he chuckled, and immediately told me how the ice caps had receded over 150 miles in the last several decades. "And we have people in office who act like that's not happening," he followed up.
I let him know I had followed his career ever since his Fox sitcom. "I had to fight for that a lot," he said, referring to his battles with television executives to air his show. "I actually hate sitcoms." Maybe that's why his show was so much the opposite of a traditional sitcom. "The edgiest thing is 'real'," he said. "Anybody can make fun of a crazy person, but to add that extra layer of humanity? That's what I try to do."
"By the way, have you seen my new movie 'Special Unit'?" he asked. I told him I hadn't, but by the end of his plug I knew I had to watch it. "Due to the Fairness in Disability Act, four handicapped cops join the LAPD. I basically play the mugshot of Nick Nolte, but with 40% more scumbag," he said. "Oh, there's a funny school shooting in the movie," he added. He said when he mentioned that on a podcast that the host's eyes bugged out.
"When people look at me like I'm out of my mind, that's when I know I'm doing it right. You can't halfway change opinions, you have to hit them in the face with a two-by-four." He made it clear that his intention was not mockery of the disabled, but showing that they are capable of everything everybody else can do, albeit in a comedic manner. He said that Hollywood talks a big game about supporting the disabled, but when it comes to actually casting them they drop the ball.
Of course, that brought us to his "Amerigeddon" tour, which will be at the Fargo Theatre on Saturday, December 2. "My comedy buddies said don't do that when I told them about it," he said. "But I always have to be honest."
The divisiveness and cutthroat nature of our last presidential election cycle was what inspired this most recent special, which he'd be working on since January. Obviously it was touchy subject matter. But of course, Titus doesn't mince words or shy away from the controversial. "We were all fighting each other over these two people who don't care about us, and we keep buying their bullsh*t," he said. "We had a choice between a pantsuit-wearing robot I like to call She-3PO and an Alzheimers-ridden orange rodeo clown."
Titus is an equal opportunity offender, obviously. "I go after everybody," he said. In his latest show, he said Hilary Clinton, Donald Trump, and even former president Barack Obama end up in the hot seat.
Of course he would occasionally hit a raw nerve. "People would stand up and scream during the show so I'd debate them," he said, "Then they'd eventually say f*ck you, and at that point I win." At the same time, he said that conservatives from the audience had come up to him after the show congratulating him for his observations and mentioning how they dreaded seeing Trump's latest offense in the news every morning.
However, the goal of "Amerigeddon" is not to support any particular political candidate, he made clear, as he classifies himself as a political independent. "At some point we forgot to be Americans first," he said.
He pointed out that the powers that be keep us at each others throats because it is lucrative for them and helps solidify their position. "My point is that if we join together, and we go after they, that's when change happens."
With these lofty ideas in mind, he said he doesn't know if "Amerigeddon" will start a cultural revolution. "I can only guarantee you'll laugh," he said.
But until things change, he said he will "continue to weed out the idiots" and "keep writing jokes." And after doing this comedy thing for over twenty years, he has gotten pretty damn good at doing those two things.
IF YOU GO
Christopher Titus
Saturday, December 2, 8pm
Fargo Theatre, 314 Broadway N