Annoying advertising on the Internet
by Chuck Solly | .(JavaScript must be enabled to view this email address) | Culture | October 4th, 2017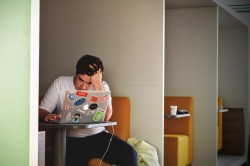 In a previous column, I mentioned ad blockers. These are usually extensions to your browsers. I am speaking specifically about Firefox and Chrome browsers and the new Edge browser. There are other browsers but those three are the most common.
For anyone new to the Internet, to connect to the internet you need one of those three pieces of browser software. You can download extensions to your browser either on you laptop/pc or phone, that will allow your browser to do many things on the Internet.
One of these browser extensions will allow you to block those annoying ads that marketing companies put on many sites. Many (not all) of these ads are intrusive, that is to say they get in the way of what you are doing on the web site, such as reading, signing up for something, etc.
"Getting in the way" or "intrusive" is very subjective. Different people interpret internet ads differently.
Now here is the news: Google is planning to introduce a built-in ad blocker for its Chrome browser next year. This means that you no longer have to download and install an extension; all you have to do is turn it on or off.
While Google has already warned publishers about the change, the ad blocker is now starting to show up in pre-release versions of the Chrome for Android app (your phone). TechCrunch reports that the ad blocker can be found in the latest Chrome Canary app for Android. Testers can download the latest Chrome Canary build from Google Play to try out the ad blocker.
While Google makes the majority of its revenue through its own ad business, it's determined to tackle what it describes as "intrusive ads." Unacceptable ads are being determined by a group called the Coalition for Better Ads, which includes Google, Facebook, News Corp, and The Washington Post as members.
The controversial addition of an ad blocker directly within Chrome will likely generate a lot of debate around Google's control of the web and ads, and this test version will help direct that feedback to Google.
It's not clear exactly when the ad blocker will make it into the beta or stable channels of Chrome, but Canary features often take months to reach a stable release.
What I find so frustrating is that most of these ad issues could be solved if Google and others actually approved each ad before it is in the system. Every other form of advertisement requires approval before it is shown.
This is precisely the issue with Russian ad buys on Facebook. No one actually checks the ads for content or legality. They are automatically placed on FB as soon as their credit card is approved.
Could you imagine what would happen if television ads were played without anyone at the station reviewing it first?
Since I use the Chrome web browser all the time, I will report back to you about how well the new ad blocker works. In the past, using the ad blocker that I tested, some websites detected the blocker that I was using and wouldn't let me browse to certain areas of that site. We'll see if that behavior continues. Stay tuned...
For the security-minded among us
Are you one of the security-minded with your computer and files? You should be. San Disk has come up with a thumb drive with its own security system. If you use thumb drives (flash drives) this item or one like it may be for you.
Keep in mind that there are many brands of thumb drives that you can use and perhaps even some like this one with security. My idea today is to bring awareness of the fact that file security is available on thumb drives, and that if your files living on a portable drive have to be kept secure, this is the way to go.
Create a private vault and simply drag-and-drop your valuable files inside. Access to your vault is protected by a personal password, and your files are automatically encrypted – so even if you share your SanDisk USB flash drive or it becomes lost or stolen, access to your files is safe.
Thumb drives compete with cloud services for file security, but of course cloud services cost money, usually a monthly fee. You can find drives with a 32GB capacity, usually enough for quite a few files. The price varies but is in the vicinity of $25.00. There is no monthly fee, so if you have a need for portability for your files this may be better for you than a cloud service.