​Area University Hauntings
by Seng Phengdouangdeth | .(JavaScript must be enabled to view this email address) | Culture | February 1st, 2017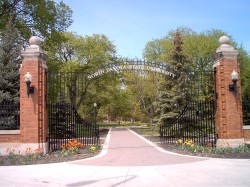 If you were to perform a Google search for ghosts or hauntings in the Fargo/Moorhead area, chances are very likely that you'll come across numerous stories that take place on college campuses. Ask almost any current student or alumni of the three universities, North Dakota State University (NDSU), Minnesota State University Moorhead (MSUM), or Concordia, and they could probably give you details of the rumors or stories they had been told about strange happenings that have occurred in a notorious part of their school's grounds.
Filled with such an extensive amount of history, it's surprising that more people don't automatically connect strange occurrences such as claims of apparitions or strange sounds to the college campuses in the first place. Each standing since the late 1800's, the three universities have experienced their share of tragedies that have stained the pages of time in some way or another, leaving those who are up exploring, or perhaps studying, in the late hours of the night to catch a glimpse of something that might not want to be forgotten just yet.
For instance, you may have heard a thing or two about the ghost that haunts MSUM's Weld Hall during the quiet, still hours of a late night. An apparition of a man whose legs appear to be missing can be seen floating in the darkness around the building and often appearing on stage, swaying as if to music in the night. Though the stories about this ghost vary slightly from person to person, they all speak of a man who fell to his death while working on the building. Despite the varying details of who this man was or how exactly he might've died, there is no mistaking the ghost that has been rumored about by many and seen by few.
NDSU has a few stories of its own regarding ghosts. Ceres Hall, a building originally established to be a women's dormitory but later converted into an administrative office building, has its share of ghost stories and known activity. According to those who attend the university, Ceres Hall is actually haunted by a number of ghosts, two of whom are restless spirits that may have committed suicide within the building in the past, a man and young woman. These restless spirits are said to be incredibly active, as slamming doors are heard, very heavy and intrusive presences are felt, and disembodied angry or sad voices are among the claims of those who have witnessed the activity.
Stories of peculiar and strange happenings have become embraced on the Concordia College campus. A folder exists within the archives of the establishment's library that holds detailed stories, accounts, and sightings, along with newspaper clippings and research papers of ghostly activity written by the students and faculty. If one were to find themselves curious about the spirits that dwell within the many corridors and dormitories, a simple request for this information would have this folder that is simply labeled "Ghosts" delivered to you without hesitation.
One of the beloved spirits that is commonly documented within Concordia's "Ghosts" folder is known by the name Dolly Larson, and her stories are perhaps the most well-known among the student body. With incredible enthusiasm for music and extracurricular organizations, Dolorita "Dolly" Larson, a student who attended Concordia in the 1950's, was accepted among her peers for her incredible presence. Tragedy befell the young woman as the stresses of college life took a toll on her, eventually causing her to deteriorate mentally and succumb to suicide.
To this day, Dolly's enthusiastic spirit is still felt in Fjelstad, the dormitory she spent the last years of her life in, as students and staff have experienced strange and unusual activity such as the sound of footsteps down the hallways, turning doorknobs, doors that open and close, and appliances as well as other electronics that turn on or off on their own. The students here say that this activity is seldom ever frightening because, to them, Dolly is a friendly spirit who is only making her presence known.
With numerous stories and sightings surrounding the local college campuses, paranormal activity has become ingrained in the student culture as these claims and experiences continue to be passed between the alumni and newcomers. So, while you're wandering the halls of your dormitory late at night, aimlessly looking for something to aid in your perpetual state of boredom, take caution in how far you stray because you just might not be alone.
[Editor's note: Seng is the host of "Whispers in the Night" podcast--which explores topics of the paranormal and unexplained in the Midwest]