​Bonanzaville: spooky paranormal investigations
by Seng Phengdouangdeth | .(JavaScript must be enabled to view this email address) | Culture | October 4th, 2017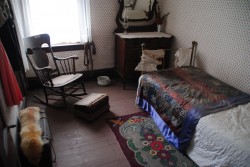 October is finally here, which means that Halloween is not too far away. If you're anything like me, this time of the year is best celebrated not by the pumpkin-spiced goodies or warm fall-themed sweaters, but instead by marathoning all my favorite horror films and decorating my home with creepy creatures, spider webs, and severed limbs (plastic, of course). Ah, yes. It's the most wonderful time of the year.
If you wanted, you could also usher in this very Spooktacular time of the year by participating in some of the many creepy activities our area has to offer. Haunted corn mazes are one great way to ensure a fun frightful evening.
How about a place with some real history behind it? That usually does the trick for me.
"The best kind of experience comes from the incorporation of factual information and history," says Melissa Warren, the special events and wedding coordinator out at Bonanzaville, which is why just last year she decided to put on the very first Ghost Tour held within the historic buildings that have been collected by the Cass County Historical Society over the past forty years.
The tour, a creepy moonlit walk in and around the grounds as well as through some of the historic buildings, certainly delivered some chilling entertainment to guests as they were led on a guided tour to experience the darker side of history.
Attendees were able to creep through the dark narrow halls and through the creaking stairway of the Brass Rail Hotel and Saloon before exploring the spooky and mysterious Houston Mansion to uncover its secrets. Frightening reenactments performed by Bonanzaville's very own nighttime inhabitants created a very unique and scary experience for all of the attendees, over the one weekend that it ran last year.
This year, due to its previous success and numerous requests for more, The CCHS has decided to bring back its infamous Ghost Tour each Saturday throughout October.
Tour times are 7:30, 8:30, & 9:30 (October 7th, 14th, 21st, & 28th), with tours limited to 12 people. Tickets can be purchased in advance for $25 while space is available.
Those seeking a more of a thrill this month can check out Bonanzaville's latest frightful attraction.
When Bonanzaville newcomer Kaci Johnson started to hear stories about strange things occurring in one of Bonanzaville's buildings by restoration staff workers, she knew immediately that this odd situation would be worth investigating further. The employees working to restore one of the ground's buildings would often claim to feel as though near the presence of something, unseen and would refuse to work after dark.
Johnson, a graduate assistant at NDSU and amateur paranormal investigator in her free time, knew that this would be the perfect opportunity to explore the building to find answers, and took to investigating it with some of her own personal ghost hunting equipment.
What she found was enough to lead her into creating a tour for those bold enough to try.
Available each Friday in October, Bonanzaville will be holding Paranormal Investigation Tours for those who want to try their hand at ghost hunting. Smaller groups of up to six members can now participate in a unique ghost hunting experience held in three of Bonanzaville's historic buildings. Whether you're an experienced paranormal investigator or new to this experience entirely, this event is open to all who are brave enough to search and communicate with the other side.
For your convenience, K2 Electromagnetic Field (EMF) Readers and Spirit Voice Boxes will be provided by the CCHS as part of your experience, as you investigate the church, Brass Rail Saloon, and historic Houston Mansion. Group attendees are also invited to personalize their haunted experience by bringing their own approved equipment, but whatever you do, make sure not to forget your flashlight.
Investigation times run for 90 minutes per tour, from 7pm, 8:30pm, & 10pm (October 6th, 13th, 20th, & 27th) with spaces limited only 6 people per tour. Tickets can be purchased in advance for $50 while space is still available.
Reservations are limited and come on a first come, first served basis. If you'd like to book your group, call (701)282-2822 today!
_______________
[Seng Phengdouangdeth is the man behind the 'Whispers in the Night' podcast]