Buying online has become the new normal
by Chuck Solly | .(JavaScript must be enabled to view this email address) | Culture | February 15th, 2017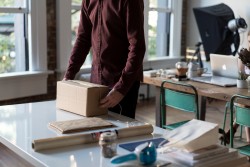 Actually my wife does most of the shopping, but I do find some really good deals on Amazon. You haven't been there? You should give it a try.
Amazon is the world's largest big box store. I do mean big box! There are millions of products to choose from. A great number of them are just a day away if you want. But to me the best part of Amazon is the (almost) free shipping. It is called "Prime." You must pay a $100 annual fee for Prime but once you have done that there is no shipping for a large majority of their products.
Another great feature of Amazon are the choices and the reviews of a product. Let me give you a recent example: I needed a wire cheese cutter for my kitchen. Looking on Amazon, I found about six of them. Which one do I choose? Well, the reviews on each one of them helped me find the one that I needed. If a buyer of one of those cheese cutters didn't like it after receiving it, he or she could write a review explaining what was right or wrong with the item.
Now how do you pay for your items? The credit card is the payment of choice for me but you can send them the routing and account number for your checking account or pay via Paypal. I understand that some of you may have some objections to using a credit card online and others might not like using a Paypal-like system but the majority of Amazon transactions go very smoothly.
I order about once a week from Amazon. If each item I buy averages one pound, then the total shipping for the year is $364. Not all of the items I buy are eligible for Amazon Prime, but most of them are. Also, many items weigh more than one pound.
How much did I save last year? A lot. I greatly dislike paying shipping costs. The product list also includes movies, music, an endless list of departments including sports, outdoors, hobbies, home and garden, and it goes on and on. I buy a lot of software and most of my electronics there because the price is usually the lowest. Even if the price is the same as the local store, the no-charge shipping and most of the time no sales tax makes it more attractive to buy on Amazon. Buying online has become the new normal.
Online retail is still changing. You may have heard that Walmart's online site now has free shipping and an extended product line. Also Ebay has a wide variety of products. The difference when using Ebay is that you are buying from an individual or small company. Sometimes you can bargain with the sellers there to get the price down below the Amazon or Walmart price.
Most of the Thirty-somethings are already using Amazon extensively and us old folks have to take advantage of the convenience of shopping online that Amazon provides. Give it a try and email me. I would like to hear about your experiences.