​Capsized canines and caring hearts
by John Showalter | .(JavaScript must be enabled to view this email address) | Culture | September 27th, 2017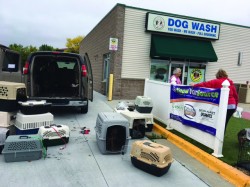 Extraordinary circumstances often tend to bring people together. When faced with overwhelming odds, people look past their superficial differences and join together for a common good.
Those sentiments can extend beyond just our fellow human beings to our four-legged friends as well, as Caring Hearts Rescue of Perham, Minnesota and Shaggy's Dog Washing and Grooming found out firsthand in the wake of Hurricane Harvey, which has not only displaced thousands of people, but many animals as well.
On the morning of September 25, Kris Brekke, the owner of Shaggy's, which has been offering dog grooming services in Fargo for the last ten years, received a phone call from Caring Hearts Dog Rescue.
They were wondering if he and his employees would be willing to help clean up some of the thirty-six dogs and puppies that had weathered a twenty hour road trip from Montgomery County Shelter in Houston, Texas to Fargo, North Dakota.
Being a dog lover and owner of a chocolate lab/German shorthair mix named Atlas himself, Brekke gladly offering his services in cleaning allof the dirty, frightened pooches who had made the trek.
By early evening, the folks at Shaggy's and the volunteers from Caring Hearts Rescue has managed not only to clean all the dogs, but their kennels as well. "It was barky, loud, and hectic," said Brekke, but, "We got them cleaned up and put into foster homes." He stated he thought that both the people involved in the effort, as well as the freshly fed and cleaned dogs, were happy with the results.
At the time this article was written, all but five or six of the canine companions had been placed in foster care, after an outpouring of support due to word of mouth and posts on Caring Hearts' Facebook page, as well as a news story by the local station KVLY. Though food was offered to those taking the dogs into foster care, many of them opted to pay those expenses themselves.
The effort to transport displaced dogs from Montgomery County Shelter in Houston, which was sadly overcrowded due to the devastation caused by Hurricane Harvey, to find new homes in Fargo, was spearheaded by Denise Randall, a volunteer with Caring Hearts who was in charge of the project.
Caring Hearts had had an existing relationship with that Houston shelter, among others, due to the owner Eileen Harlicker's son living in Houston, where they would usually transport some dogs to Fargo to find them new homes at least twice a year.
However, with the damage caused by the natural disaster in Houston, the need was even more pressing. Local business U Save Rental donated two large vans for transporting the dogs, and two volunteers left Friday morning on a round trip that brought them back to Fargo late Monday morning.
"We're so grateful to Kris for letting us mess up his store and get these dogs cleaned on such short notice," said Debbie Olson, another volunteer with Caring Hearts.
While the dogs are currently fed, cleaned, and most of them are in foster homes, there is still work to be done. Though all those who have donated to this cause and taken these dogs in are appreciated, foster homes are a temporary arrangement, and ideally all of these wayward animals will be adopted into permanent homes.
Anyone who is interested in finding out about opportunities to donate to this project, to foster a dog, or to adopt one and give it a forever home, can check out the website for Caring Hearts Rescue in Perham, Minnesota, visit their Facebook page, or ideally contact Denise Randall directly by phone. Even if you aren't currently in a situation where you can adopt a pet, every little bit helps.
Denise Randall's number: 701-261-7588