Creative flexibility at Josef's Annual Fashion Show
by John Showalter | .(JavaScript must be enabled to view this email address) | Culture | February 28th, 2018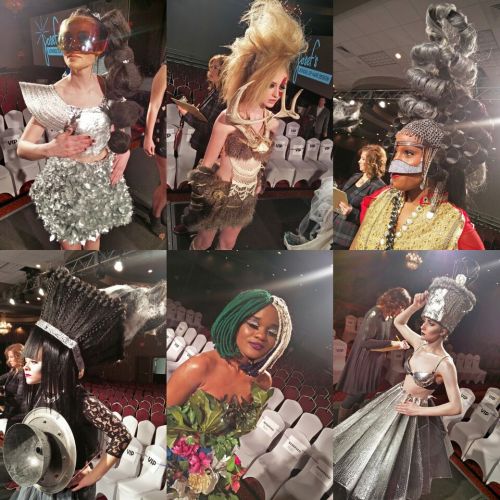 Josef's School of Hair Design has been a fixture of Downtown Fargo for decades. Ever since Dilworth native Joseph Olivieri opened its doors in 1960, the NP Avenue establishment has not only seen countless satisfied customers pass in and out of its doors, but droves of aspiring stylists as well.
While more often than not a stylist will be asked to do a haircut here, a perm there, that doesn't mean there is no room for thinking outside the box. Hair styling and cosmetics are fields for artistic expression. That's what Josef's Annual Fashion Awards is about, and it's been going on for thirteen years.
"It really lets students tap into a different part of the industry," said school director Mikaela Balzum.
Did the headline sound dire? Don't worry. Josef's School of Hair Design is not in any sort of trouble. "Adapt or Perish" is the theme of this year's Fashion Awards.
"Think Hunger Games meets Mad Max meets Stranger Things," said Balzum as she walked me past the projects under construction for the upcoming show.
"Adapt or Perish" is an apocalyptic theme, of impending doom for humanity but the stylists are encouraged to take it in a number of different directions. One could see costumes and hairpieces reminiscent of dark beings and tribal chieftains.
There are three categories in this year's show: "Stranger Things," where the designs take inspiration from mutants and other creatures; "Rebirth," which embraces a softer, lighter tone; and "Apocalypse," which is intense, aggressive, and dark.
"Every year we try to keep things different, to have that creative flexibility," said Balzum. "Students can go in a lot of different ways."
An undertaking like this obviously requires a lot of preparation, with stylists starting preparations days if not weeks in advance. Most of the materials are supplied by the school, but more exotic acquisitions may fall to the stylists themselves. However, Balzum pointed out, a very elaborate costume can be put together relatively cheaply with enough imagination and resourcefulness.
If a stylist informs judges of the time and effort put into a creation, it may work in their favor, as it shows industriousness and initiative. Contestants in the past have used materials as unconventional as eggshells in their designs. The models are both from in and out of the area, who contact the school excited to be in the production. And it most certainly is a production.
To many people a fashion show may call up an image of a stilted event where the upper echelons of society quietly clap as expressionless models saunter down a catwalk, turn around, and leave. Mikaela Balzum stressed that this most certainly is not the case with the Josef's Annual Fashion Show.
The models and stylists show up early in the morning to apply make-up and final touches before the judging starts at noon. A dance team choreographs the show, music plays. The entire event is very exciting and loud, like a theatrical production.
The product companies TIGI and Great Clips provide a great amount of support and cater the event.
And the winners? They get an all-expense-paid trip to New York City to improve their art.
The event is exciting fun for spectators of all ages. It's also a great way to see and support aspiring hairstylists.
[Editor's note: Josef's is still at 627 NP Avenue, Downtown, but they are moving to 3223 13th Avenue South, the former Straus Clothing, in late spring or early summer.]
IF YOU GO
Josef's Annual Fashion Show
Saturday, March 3, 7pm
Delta Hotels by Marriott
1635 42nd St SW, Fargo
(701) 235-0011, (701) 478-6292