​Email Explained (Partially)
by Chuck Solly | .(JavaScript must be enabled to view this email address) | Culture | February 1st, 2017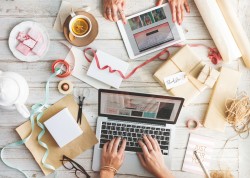 I have been asked many times about email. Email and texting are the preferred methods of communications among geeks. Most email services are free, so that is the good news. Yahoo, Google, and others, have standardized and simplified email. Texting is used by the thirty somethings and younger on their smartphones because it is more immediate. This, of course, brings it's own set of problems such as walking into things while texting and running into things while driving. Most of my communication happens using email, but I do use both forms. I actually use an app that transports my texts to my computer screen because I don't like the smartphone screen. If your eyes don't do well using the smart phone screen try searching for "Mighty Text" on your smartphone.
Some things to remember about email: most of your emails remain somewhere. once you write and send an email to someone, it will exist on an email server somewhere. So where does that leave you? I guess if you are a bad guy you should stop bragging about your bank robberies, your auto thefts or your drug sales on the email systems. But let's suppose you are not a bad guy. Well then as long as you are not writing about anything that is illegal, immoral, or stupid, go right ahead and send, send, send. Of course if you say something nasty about your neighbor to another neighbor no one may ever be the wiser. Maybe...
For those who need (or think they need) a higher level of protection for their email, there now exists a new email service. It is located at www.lavabit.com. This is a brand new service with a price of $15.00 per year. This service will encrypt your email no matter where it originates from or where it goes to. It has three levels of security and is currently accepting reservations. The levels correspond to the place where the mail encryption resides. You can go to the website to sign up. This site was running several years ago when the US Government asked them for their security key so that it would be possible for them to look at all incoming and outgoing emails. The owner of the site refused to disclose the key and took down the site. This time around, the owner has redesigned the software to have the key reside on the customer's site and therefore unavailable to Lavabit. We'll see how that works.
The parts of an email address are as follows: The part before the @ symbol (local-part) identifies the name of a mailbox. This is often the username of the recipient, e.g., jsmith. The part after the @ symbol (domain) is a domain name that represents the administrative realm for the mailbox, e.g., a company's domain name: example.com. ALL email addresses on the Internet have to follow this format. Something that many people forget is that there are NO SPACES allowed in an email address. No spaces before, after, or anywhere in the middle of the address. The domain name part of an email address is case insensitive (i.e. case does not matter). The local mailbox part, however, is case sensitive. The email address ReCipiENt@eXaMPle.cOm is indeed different from recipient@example.com (but it the same as ReCipiENt@example.com). Got that?