​Entertainment Made Convenient
by Ben Haugmo | .(JavaScript must be enabled to view this email address) | Culture | April 12th, 2017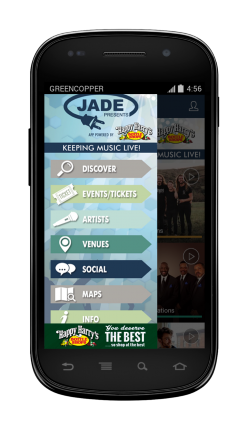 As technology becomes more and more complex, many aspects of our lives become simpler. Our phones have streamlined everything from finding directions to dating, with new innovations appearing every day.
Jade Presents is helping to make life simpler with the release of their new app, which will include useful tools such as seating maps, parking arrangements, and ticket sales. These features and more will all serve to help concert-goers feel more at ease.
Katelin Madsen is Jade Present's Digital Content Manager and Patron Services Manager and, therefore, worked alongside the app's developers at Greencopper to make sure that it did everything required to best serve customers.
"I was moreso on the experience side of it--just seeing what was going to be best for customers, and the easiest way for them to get the information they needed."
One aspect of the concert-going experience that the app will really help with is the pre-sale and purchase of tickets, allowing it all to be done through the phone.
"We are starting to do the presale passwords that we usually send out--the only place you're going to be able to find those now is within the app. That's a great way to get presale tickets. There's also the ability to purchase tickets directly in the app. It's kind of a one-stop shop to find all of your tickets all in one place."
The app also allows patrons to connect with entertainers by linking to their bios, social media, and music. It's a good way to get a taste of the show beforehand.
Madsen and the Jade Presents team have plans to improve on the app in the coming years.
"We signed a three year contract with Greencopper, so we are planning every year to get feedback from the community, what they like and what they don't like, and update and add features. I know we talked about doing a photo booth feature, something fun, and just getting feedback from everyone and seeing what it needs every year."
The Jade Presents app arrives just in time for the Bluestem Concert Series, hosted at the Bluestem Amphitheater, and kicking off with a concert by The Shins on May 21. The series will also feature Tony Bennett, Everclear with Vertical Horizon and Fastball, Buddy Guy and Jonny Lang, and many more.
With so many exciting events coming up, there's no better time to check out the new Jade Presents app.