​Fargo native heads for the Burning Hills Singers
by Sabrina Hornung | .(JavaScript must be enabled to view this email address) | Culture | June 14th, 2017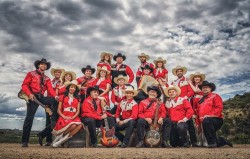 ""You're really just grinding to get the show on. I think that's the hard part -- learning how to coordinate and remember everything in a short amount of time." says Alyssa Scott, Fargo Native and cast member of the Medora Musical. She adds "Everybody works together and really brings it together."
Scott cut her singing and dancing teeth as a student at West Fargo High School. She was a member of Just for Kicks dance line, was active in choir, and participated in theater. She eventually moved to the Twin Cities in pursuit of her musical passion and fronted a number of country bands while there..
"I know the writer of the musical, Greta, we did this church service together in Minneapolis. We got to talking and she found out I was from Fargo, and suggested I audition. She thought I'd be the perfect fit." said Scott.
For the audition she prepared two songs, one of which she had written herself, the other from Reba McEntire. The choreographer of the production was present and taught her some brief choreography to ensure she could follow direction, followed by a brief interview and she was hired.
"They do auditions in Fargo, Bismarck, Memphis Tennessee, and Minneapolis. Those are all open casting calls so whoever wants to come goes and does this audition. It's a big thing to make the musical and get a call back." she said.
The cast of the Medora musical comes from all over the country. 2017 marks a record number of North Dakotans with five out 11 singers from North Dakota.
"The musical is such a big deal in North Dakota--I think it's underestimated. There's so much that goes into it. It's a workshop show so they're literally writing it as we're rehearsing. That's a tough thing to overcome but it's almost better that way because you can really create it." said Scott
With three weeks to rehearse for the show, the chorus of the musical, known as the Burning Hills Singers, endure a grueling schedule. Some rehearsals lasted up to 10 hours. The show goes on seven days a week for two hours every night. The performers get three days off and they are affectionately known as "the golden days." "It was always a dream of mine to be a Burning Hills Singer." Scott said.
As a youth Scott spent many a summer in Medora with her confirmation group. They would spend their time there camping, riding horse, and taking in the sights. Even as a Fargoan she was no stranger to the buttes.
She says the most rewarding part is the opportunity to perform and experience the crowd's reaction, which is well worth the long hours of rehearsal.
YOU SHOULD KNOW
Medora Musical
7:30pm, every evening from June 13 to September 9
Burning Hills Amphitheatre, Medora, N.D.
Tickets: https://tickets.medora.com/