​Flatout Fargo Fun… Sisu
by HPR Contributor | .(JavaScript must be enabled to view this email address) | Culture | May 2nd, 2018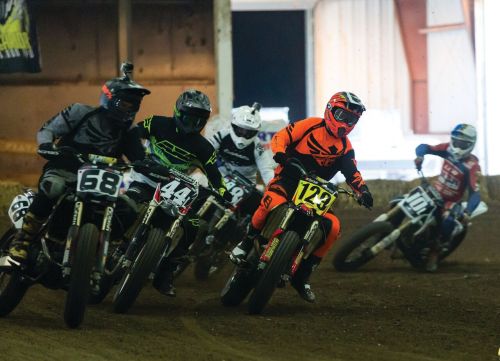 By Dan Jacobson Sr.
dandakotadan@yahoo.com
Back with more stars, faster track and event swag, year two of Flatout Fargo offers a unique motorsports experience for fans and racers. The Finnish word Sisu describes Flatout Fargo, bravery, empowerment and inner strength to take on six second laps with a full track of Sisu filled competitors. The recklessness that inspires racers to take on Flatout Fargo's incredible odds to overcome is alive and very well inside the Schollander.
Back in 1969 until 1980, the Schollander Pavilion was the place you could take your motorcycle off the street and ride or race all winter with a regular Saturday night race program. The Sisu training grounds was created by Corky Atchison and Ernie Brookins as a place for Sisu warriors from 4 to 76 that would risk North Dakota, South Dakota, Minnesota, Canada winter travel from hundreds of miles to race in the Schollander.
Today, the modern 4-stroke engines have eliminated the smokey confines of the old 2-stroke smokers and the May 5th date should be free of snow and cold. The something for everyone Flatout classes still have people talking from year one's success. This retired racer has pulled together some old friends and launched a racing effort in the Mad Dog class, limited to 100-200cc 4-stroke, air cooled, 2-valve motorcycles. Mad Dogger's are from never-raced-before to current national pro's, guys and gals. This is an exciting class of Sisu.
The Hooligan class for originally street legal bikes with minimum 550cc twin or more cylinders with lights taped over and no sharp objects. These are the largest bikes on the track and totally are amazing to watch. The run what yeah brung mentality is a live at Flatout Fargo.
Pro Open is anything super fast and new, the best of the best, these riders are the fighter jets in the basement. Cranking 10 laps in a minute flying like the blue angels inches apart. This is the part the announcers says, "Breathe Everyone."
Sportsman Open is open to 2 or 4 stroke machines of any size, limited to amateurs only. Vintage Class is any displacement or engine configuration 1981 or older.
A fan favorite is the Grom / Z125 street legal pit bike favorite of the pro's, with lights, horns and license plates. It's all the rider's skills and talent to win this class.
The ability to face adversity head-on and always overcome is apparently clear Sisu at Flatout Fargo, and super fun for the lucky 1,500 that fill the stands.
IF YOU GO:
Flatout Fargo Indoor Flatrack
Saturday, May 5, 5:30-10 p.m.
Red River Valley Fair Pavilion