​Frostival: heating up the F-M area
by Hee Han | .(JavaScript must be enabled to view this email address) | Culture | January 26th, 2018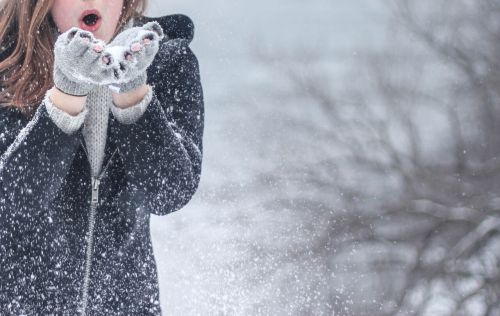 Let's think about what we can do in this severe winter. Check your car battery if it's still alive. Making sure you're geared up to go outside.
There are a lot of things could happen, whether good or bad, because we don't know what's going to happen in foggy, snowy and windy conditions.
At this point, HPR would love to introduce something that can give you only happiness and extreme fun. Frostival invited all of us to "start with a weekend of games and activities during the deepest, darkest part of winter."
On January 26, there will be opening kick-off events. To warm up, Live music in the Heated Tent presented by Raymond Management Co is awaiting you from 7 to 10pm in the heated tent. The music will be featured both Friday and Saturday evenings to welcome all F-M area people. "Downtown Sound will be heating up Base Camp from 8 to 11pm to complete Frostival."
Adding more fun is the Beer Garden event, located in the HEATED TENT as well, and they will be selling a variety of beverages from 6 to 10pm.
There will also be a Family Zone presented by Sanford Children's, with S'more stations, carriage rides, and free handwarmers (while supplies last), courtesy of Scheels. Campfires too!
On January 27, Frosty Cup is hosted by the DCP and Crossfit Ice House. Sign up to win prizes, Frostival swag, and extra fun. Frosty Cup is from 1 to 5pm. Teams of two will compete in the following five events: Snow Pong, Bags, Dizzy Hockey Stick, Flip Cup and Undie Run. Will Tighty-Whities make an appearance in the Undie Run? Registration comes with a pair of Frostival mittens, which must be worn in each competition for scores to count.
Apart from Frosty Cup, North of Normal games will give you a variety of fun to enjoy. Frostival will feature Ice Bowl Disc Golf, Kickball Tournament, Cardboard Sled Races, Gold Tournament, Cross Country Ski Race and Volleyball Tournament. Locations, registration fee, and rules for each game are various. For more detail, check out the official Frostival website, http://Frostival.com.
For our little kiddos, there will be Kids Winter Boot Camp to learn how to enjoy this weather: sleigh rides, inflatable games, DJ/music, Igloo Craft Project, Dippin' Dots Station, Science Project, Passport to Prizes, and so on. This will be a great chance to ditch school duty and run all over the place to try them out. Lots of laughter will help heat up the boot camp.
Other events follow, under the Frozen Fortress heading: Log the Sauna by Folkways, Buy one Get One Admission, Moorhead Kiwanis Chili Feed, MBA Snow Sculptures, Cross Country Skiing, Snowshoeing, River Keepers Scavenger Hunt, Moorhead Public Library Snowman Storytime, Snowga and Dance Attack.
And other activities, such as Frozen Fantasy Family Dance, Winter Birding Festival, Winter Rocks Skating and Frostival Finale Symphony Concert.
Frostival lasts for only two days, on January 26 and 27. Hey, check out some of the fun. If you like it, we'll keep doing it. Come on, what have you go to lose?
For more information, the Frostival official website is http://frostival.com