​Full speed ahead: Derby for the Vets returns for a fifth year
by Brittney Goodman | .(JavaScript must be enabled to view this email address) | Culture | February 1st, 2017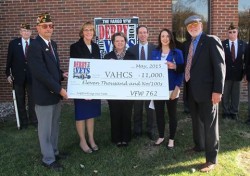 The Fargo Downtown VFW Derby for the Vets (DFTV) is full speed ahead, promising an afternoon of fun and fundraising for our veterans on February 18, 2017. And you still have time to build, register, and race your own pinewood derby car in this year's event. To celebrate the fifth year of the event, DFTV also has a special logo from Spider & Co.
Dan Jacobson, DFTV Director, is anticipating 100-plus entries this year between the standard race, the Mayor's Challenge, and the Brand Challenge. Dan elaborates: "The auctions (silent & live) are a big part of the day, with so many great items ranging in value from twenty bucks to over a thousand. There is something to fit everyone's giving and need. The food has always been fun and fitting for the event." Dan also thinks the vote and award for "most unique car design" is a great part of the day, with "so many unique and interesting cars."
DFTV raises money for the Fargo VA Hospital to purchase roller recliner chairs for patient rooms. Past Derby for the Vets events have raised over $40,000 for this cause, and this year the goal is to almost match the grand total – with $20,000 being sought. They are halfway to the goal due to a local anonymous donor matching the fundraising up to $10,000 this year.
Of the fundraising focus, Dan says, "The community has been very good" and he applauds the Derby for the Vets marketing partners that return every year such as the Dakota Supply Group (DSG), Sanford Health, North Country Marketing, WDAY, Dakota Monuments, Riverzen, HB Sound & Light, and 334 Studio. In addition, he says, "This year we have Petro Serve USA and the Kilbourne Group rolling in as great corporate partners for our veterans."
The Grand Marshal for DFTV this year is 970 AM WDAY personality Jay Thomas, who has been a long-time supporter of the event, as a participant and a media partner. Jay says he is "very proud and honored" to serve as Grand Marshal.
Jay explains, "What makes this event fun is the fact you have a bunch of adults getting together and doing something that we did as kids, and for a few hours we can forget about all the BS going on in the world and our lives and just have a good time -- knowing we are also helping out the men and women that were willing to put it all on the line for us so we could do crazy fun things like The Adult Pinewood Derby." Jay plans to race his car, The Bone Crusher, again this year.
Dan especially appreciates the companies that enter the "Brand Challenge," in its second year for DFTV. For $50 they get to enter a logo car in both the regular Derby race and the Brand Challenge race. Dan says, "Seeing the excitement of the company logo cars racing and the team building experience has been a huge plus for the event. The Kilbourne Group is building a pinewood I can't wait to see... It could look like Broadway!"
Also, just like last year, the "Mayor's Challenge" aims to have all four local mayors participating with a car.
Dan emphasizes that this event has something for everyone and that it is very "welcoming." He also says that "it takes many volunteers to put on an event like this, all with a goal of having a great winter afternoon of fun and giving back to our local veterans." Jacobson's main event team includes Joel Hebert, Club Manager; Stew Peterson and Brittney Goodman, Silent Auction and Marketing; Dave Rice, Commander well as many of the club officers and VFW Auxiliary members.
What should you expect if you attend the event? Dan describes the event as "pulsing with racing excitement, both upstairs and downstairs" at the VFW Club. The audio and video production by H-B Sound and Lights and Studio 334 make the event very exciting. Experienced VFW bartenders will also be on hand to pour you a favorite beverage.
The festivities for February 18th follow. The doors will open at 11 am with food from the VFW Auxiliary along with Tech/Registration. At 1 pm the opening ceremonies occur followed by racing, with the order of the Mayor's Challenge, Brand Challenge Round 1, Derby for the Vets Rounds 1-4, Brand Challenge finals, and Derby for the Vets finals.
A silent and live auction will close out the afternoon's racing and will include small plane rides, a painting done "live" by local artist Kim Jore, event packages, and many dining and hospitality certificates from local merchants.
A few logistics
If you want to enter a car, registering in advance is recommended. You may pick up a car kit and registration form at the Downtown Fargo VFW.
The event is only open to people 21 and over.
The program starts at 1pm with an opening ceremony, but arriving early is recommended, as seating is limited.
Sponsorship opportunities are available and will get your company name on posters, other promotional materials, and frequent mentions in local media.
IF YOU GO
5th Annual Derby for the Vets Adult Pinewood Derby
Saturday, February 18, Registration 11 am, opening ceremonies and racing at 1 pm
Downtown Fargo VFW Club, 202 Broadway, Fargo
Attendance is free. Racing registration ranges from $20 to $50. Register in person at the VFW.
Contact: Dan Jacobson, 701-799-8419