Gay/Straight Alliance Initiative: A call for stories
by Faye Seidler | .(JavaScript must be enabled to view this email address) | Culture | April 5th, 2017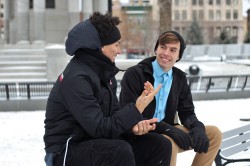 The GSA Initiative is designed to create guidelines for founding new LGBTQ+ support and activity groups within the middle and high school settings in North Dakota. This initiative exists because of the lack of resources I had while going to school in this area and the current lack of resources that our students report.
Our aim is not only to create startup guidelines, but to create a standard policy and procedure for these groups to give them the tools necessary to thrive. Beyond all of that, we hope to create a plethora of resources and materials for the LGBTQ+ students -- things such as how to come out to your family, various activities for fun, LGBTQ+ history workshops, how to be safe in school and at home, and other similar topics.
The Initiative was originally going to kick off with a focus group on the 23rd of May, but that has been canceled due to lack of participation by our school system. For the numbers, the initiative emailed over two hundred principals within North Dakota. It also networked with guidance counsellors throughout our state using the ND School Counsellor website.
Given those numbers we received one response from one principal who only responded to ask to be removed from the email list.
We did have more luck with guidance counsellors, but only heard from four. Each guidance counsellor we heard from was from a rural community and each indicated a desire for this information, citing lack of local resources or guidance.
Based on that response, I don't think the need for this initiative can be more clear. This is a setback, but we're not giving up, but we'll be refocusing our direction. So, instead of doing a large focus group, we'll be doing individual interviews either through email, phone, or in person, depending on the person's ability and preference.
While we believe a larger focus group to be very useful and something to explore in the future, we don't have the numbers today.
Our last article talked about needing people's help and we still do, but this time we need stories and perspective. We'd love to hear from any LGBTQ+ student in our state about their experiences and what they want from a GSA.
We want to hear from any counsellor, educator, principal, or parent to get their perspective and to establish contact, so we can keep them up-to-date about what we've learned.
Finally, If someone is a parent of an LGBTQ+ student, we recommend talking to school counsellors and the principal about taking proactive measures to make sure their child has the support they need in school to thrive.
We encourage people to be directly involved by volunteering their time and talents with this initiative. While it is intended to be a project with a clear start and finish, there is always room for more minds and more skills to continue building on it after its completion. We could especially use individuals gifted at website design to host our finished project as an interactive website rather than a large pdf.
If anyone would like to be involved by sharing information, stories, perspective, talent, or time, please email me at fayeseidler@gmail.com. Given our shift in direction, we hope to develop a rough draft for our comprehensive guide by the middle of June. We will then distribute that guide to anyone interested in editing. After we get our edits back and finalize our project, we'll be sending it out to every school before the start of the new school year, to make sure they have the tools necessary to address LGBTQ+ needs.
Finally, independent of the project, anyone is welcome to contact me currently for general information about how to start their own GSA. While I don't have all the information, I'd likely be able to point someone in the right direction.
Aside from that, I also offer transgender cultural competency training for teachers or counsellors and my email is always open to any question related to transgender issues, whether an individual is questioning their gender, looking for resources, or a family member wants to understand the condition better and doesn't know how to ask.
[Faye Seidler is North Dakota Safe Zone Project Spokeswoman]