​Have you heard of PDF files?
by Chuck Solly | .(JavaScript must be enabled to view this email address) | Culture | July 12th, 2017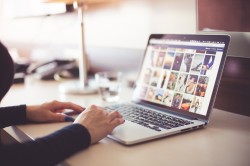 They are pretty cool! I am sure you have friends or colleagues who don't use Windows as their operating system. Trying to open files that have been created on another operating system used by your friend can be a huge hassle. PDF files make this possible.
PDF stands for Portable Document Format. This means that the file can be moved easily from computer to computer and operating system to operating system. They are compact files and can be viewed on just about any platform – create it on Windows and open it easily on Macs, Android, iOS, you name it.
PDFs preserve your formatting, fonts, and embedded images—even if you do not have the particular fonts on your system. With a PDF converter, any file can be converted and read on your computer.
It requires a reader such as Adobe Acrobat or one of many similar pieces of software to do this. Many of them are free or very inexpensive. I recommend getting one of them loaded on your computer. You can download Adobe Acrobat or any other similar software and it will automatically install and you can then use it for opening .PDF files.
Keep in mind that the reader only reads .PDF's. If you want to create .PDFs or edit (change) .PDFs you MAY need to buy another piece of software.
Foxit Software has a free PDF reader that will allow you to create your own PDFs and even allow you to edit. The editing process is pretty tortured, however, and for editing there are better tools.
I have been using Soda software for the past several months with some good success. One of the nice things about it is it lets you fill in the blanks in a form quite easily.
There is another way if you create .PDF's a lot. GreenPrint is not free. It costs $19, but lets you send a file to your printer. Instead of actually printing it and wasting paper and trees, you can create your very own PDFs.
There are many ways to create and manipulate PDFs. Try SlimPDF Reader, Nitro Reader, Adobe Reader, and Nuance Reader, as well as Foxit Reader.
In addition to those there are about a million more. Try a Google search.
Some weeks ago, we talked about the cloud services. Sending your PDFs up to the cloud is an automatic these days. It protects your documents from hackers and computer failures. Soda will allow you to send to your cloud accounts automatically. I am sure that most of the other major software suppliers will do the same.
I use the signature feature quite often. Filling out a PDF form and then signing it saves an amazing amount of time. Most of the PDF software have this feature built in. There are several different versions of the signature feature, so check out the websites of the software manufacturers.
All in all, PDF files can save you much time and money. Creating a lot of text and graphics files can be time-consuming. Save them as PDF files and put them away in your back pocket (or in the cloud), and they will be safe.