​Hitting your thumb with a hammer
by Chuck Solly | .(JavaScript must be enabled to view this email address) | Culture | September 27th, 2017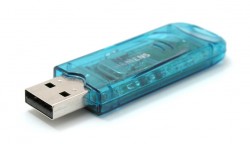 That hammer can really do a lot of damage to your thumb. Please be careful if you are doing some DIY carpentry. The hammer can also do a lot of damage if you hit your thumb drive with it. Your hammer should not be anywhere near your thumb drive. Now do you know what a thumb drive is? Let me explain.
Also referred to as a USB flash drive, a thumb drive is that little square thing sticking out of the side of laptops that you may see in a coffee shop, the student union of a university, or similar locations. It stores files. It is actually a solid state (no moving parts) hard drive.
You plug it into the USB port on the side of your laptop or the front of your desktop and the operating system will see it as another drive letter (E: for example).
With so many cloud storage systems like Dropbox and Google Drive, why would anyone want a USB flash drive (thumb drive)? Well, for most people, storing and transferring large files or large numbers of files is still cumbersome using online systems. A USB flash drive gives you a quick and easy way to transfer large amounts of data, including photos, music, documents and videos.
One reason to use USB flash drives for mass data transfer or storage is their portability. Sure, you could load everything onto your portable USB hard drive, but those are usually bulky and a bit heavy. USB sticks often weigh less than an ounce and fit comfortably on a key ring. The best USB flash drives combine high portability with excellent performance and storage capacity.
It's important to note that USB flash drives should not be used for long-term storage, as they usually don't last as long as a regular hard drive. Flash drives are best used as a short-term storage and transfer tool.
Also important in our story today is the fact that there are two different versions of USB ports. The older computers may have Version 2.0 of the USB ports with the newer machines using Version 3.0. The difference is speed for uploading and downloading files to the thumb drive.
What happens if you plug your thumb drive into an older Version 2.0 USB port? Nothing. It will just upload or download files more slowly.
How many files will the thumb drive hold? Most drives come in several different capacities, ranging from 8 GB all the way up to 128 GB. For simple file transfers, 8 GB is plenty. 16 GB and 32 GB USB flash drives are useful for storing or transferring large music libraries and raw images. You'll want to get 64 GB or more for storing or transferring HD-quality movies or TV shows.
Reviewers are saying that the SanDisk Extreme is the best buy today. It's capacity is 32 GB for $20.99. In addition to its good speed and sleek design, this USB 3.0 flash drive comes with the SanDisk SecureAccess software pack so you can create a password-protected folder on your drive and secure your files with 128-bit AES encryption.
In case you need technical support, you can call, email, chat live with SanDisk representatives, or ask members of the community forum to help you out. And if the product fails, you have the lifetime warranty to back you up.
I especially like the idea of creating a password-protected folder. I receive no compensation from SanDisk; I am just following the recommendations of reviewers.
As you use your USB flash drive, the memory can become unreliable if data is written and rewritten in the same memory position. Think of it like a waterfall pounding on a specific part of a stone: You'll see a hole form in the stone relatively quickly.
Some thumb drives have a technology called wear leveling that distributes data across the drive equally, so that it ages uniformly. This is like spreading the waterfall out over all of the stone. The end result is that drives with wear leveling usually last significantly longer than those that don't have it.
One more item today: thumb drives can be reformatted to erase old files and sometimes recover space on the drive. This is an operation that many of you may not have to do and since I have limited space here, send me an email and I will walk you through the process.