​Hjemkomst Center hosts 'Quilt National '15'
by Paige Johnson | .(JavaScript must be enabled to view this email address) | Culture | July 12th, 2017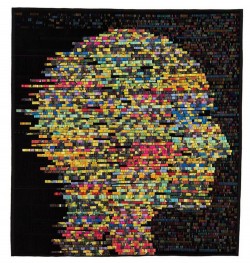 National and international quilts on display through October 10
Quilt by Diane Siebels
Quilts are a fixture on beds and couches, but what about on walls? At the Historical and Cultural Society of Clay County, "Quilt National '15" brings the medium from cozy comfort to art form in their latest exhibition.
The quilts represent artists from 33 states and 8 countries, including Canada, Japan, Australia and Germany. It also features a broad range of subjects, colors, and textures. The themes of the quilts include art history, philosophy and social justice. The juried exhibition offers a view "that quilting is an art form on a level with traditional fine art mediums," as juror Judy Schwender stated.
In addition to the exhibit, the HCSCC will also host artist Velda Newman for an artist talk and workshop. Newman's work, "Clams," is also on display in the exhibit.
"My piece is really a snapshot in time," Newman said at the premier of the exhibit in 2015. "This is a time that I lived on the central coast in California – I'm a native Californian.
I remember the beach fondly. Shells are one thing that, they, if you look at them in their normal size, you don't see too much. But I Like to enlarge and scale up everything so I can put a lot of detail in it. And that's all done with the stitching and the shading."
It's hard to believe that the pieces in the exhibit are actually quilts. Newman's piece, like many of the pieces in the exhibit, looks more like a painting in its detail, colors and shading.
Newman's discussion will take place on Tuesday, Sept. 21 from 3 to 5pm at the Hjemkomst Center. Reservations are available through the Quilters' Guild of North Dakota. The entire exhibit will be on display through Oct. 10 in Heritage Hall.
For more information on the exhibit and the Hjemkomst Center, visit their website at www.hcscconline.org.
IF YOU GO
Quilt National '15 Opening Reception
Tuesday, July 18, from 5 to 7pm
Hjemkomst Center, 202 1st Ave N, Moorhead
open through Oct. 10
More information: www.hcscconline.org
IF YOU GO
Velda Newman Discussion
Thursday, Sept. 21, 3 to 5 p.m.
Hjemkomst Center, 202 1st Ave. N, Moorhead