​Holly new year! A benefit revue for Holly Handful
by Hee Han | .(JavaScript must be enabled to view this email address) | Culture | December 27th, 2017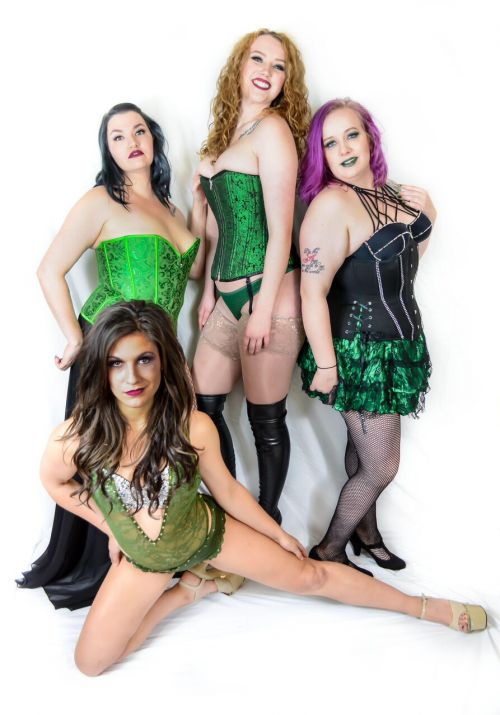 Ketel Wonder, Burlesque Performer and Pole Fitness Instructor, is the first polesque performer in North Dakota. Wonder's journey began when she was 23.
"I attended my very first burlesque show at the Aquarium. It was a Bad Weather Burlesque show, and afterward I approached the Alabaster Disaster about how I could be involved in the production. Lo and behold, they were hosting their very first amateur night two months later. After about two years, I began taking pole classes in Fargo and it only made sense for me to combine the two on stage."
As a performer, she is inspired by the creativity that she sees across the community, "Crazy twerks, miraculous clothing removals, and hidden political messages are probably among my favorite things to watch and execute. Teaching pole, barre, and Pole-ates is extremely fulfilling. I see clients everyday with beaming smiles as they overcome a multitude of obstacles ranging from difficult tricks, body issues, and lacking community. I love knowing that I have, in a small way, helped facilitate those changes for them."
Wonder also showed her passion about a Burlesque group that she is in, Valkyries of the Valley, "We are a strong group of women who refuse to leave our lives up to fate. We've endured hardships and battles and come out to reveal our burning flesh across the Red River Valley. "
This time, Wonder planned a special event for New Year's Eve for her friend, Holly Handful. Handful has been working with Wonder for a year as a member of Valkyries of the Valley. Handful has struggled with medical issues earlier this year, so that Wonder and fellow members of Valkyries of the Valley decided to host a benefit show for her. There will be a silent auction to help with medical expenses for Handful after the show.
"Holly Handful was hospitalized for over three weeks in June," said Ketel Wonder, "for severe chest pain and trouble breathing. Her doctors diagnosed her with Spontaneous Pneumomediastinum. They found fluid surrounding her heart was causing the pain. After many tests, scans, and blood draws she was diagnosed with Pericarditis. Throughout her stay, Holly had multiple "Rapid Responses" called. On the last call they gave her all of the medicine they could to try and get control of her pain. When she woke the next day, she couldn't speak or move her leg. She had to do physical therapy for three weeks after her release to be able to walk again.
"When we told Holly we'd like to host a benefit show for her, she burst into tears. Adorable, uncontrollable tears. That we can band together to help our fellow performer is really all we need in Fargo. And we get to shake our butts and laugh while we do it!"

Wonder will be holding the event at Drekker Brewing Company, where Handful started working with Valkyries of the Valley for the first time on December 31. There will be a silent auction, Burlesque show, and Go Go Dance Party.
The silent auction goes from 3pm to midnight, with bid sheets being pulled at 11pm. It will feature items from Everett's (T-shirt, free haircut, swag), Green House Cafe (Baked goods basket and gift card), Buffalo Wild Wings (TBD), Pure Romance (Bath and body gift basket), Drekker Brewing (Growler + merch), Boiler Room (Gift card), Zero Gravity Alternative Fitness (One-month unlimited membership), Beloved Photography (30-minute mini photoshoot), and more.
Wonder said, "After midnight and after the show, the music will play on at Drekker as performers and stagehands from Valkyries of the Valley keep the energy going with music and dancing on stage. With a $5 donation to Holly Handful, patrons can enjoy a rare scene in Downtown Fargo!" The event's entrance fee will be $10 for general and $15 for VIP, including a Drekker Brew.
Wonder left a comment for those who will be coming for the show: "Patrons should expect to laugh, enjoy the striptease, and get a look in on what life looks like for a couple twenty-something burlesque dancers.
"Erik Block (from Red River Trivia) will be hosting. Dakota Rebelle from New York City will be performing, and Monaco Maneater will be back on the stage for the first time since June! We're a silly group looking to entertain an audience, mostly at our own expense."
IF YOU GO Holly New Year: A Benefit Revue for Holly Handful Sunday, December 31, 9pm to midnight Drekker Brewing Company, 630 1st Ave N Ste 6, Fargo