​I am the Master of my Domain
by Chuck Solly | .(JavaScript must be enabled to view this email address) | Culture | September 20th, 2017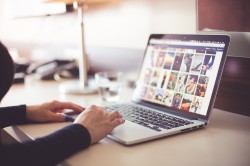 You could be the master but you have to pay for it. How do you get a domain name for free? If you have been reading this column for any length of time you should have learned that nothing is free.
Now that you know that it is not free, perhaps I should explain what a domain is. You probably realize that the last few letters after the period in a web site name can be different. Some examples are .com , .org , .bus , .ca. These are called Top Level Domains (TLD).
You can buy domain names from many different companies. They are all over the web. I buy my domain names from my web host. This company, DreamHost.com will sell you a domain name for a few dollars. You can buy a website name in any of several dozen of these top level domains AS LONG AS someone doesn't already own it. For instance, you cannot buy sony.com because Sony already owns it. Makes sense to me. You can probably buy rgqweuixxml.com because the chances are pretty good that no one owns it.
OK, so now you have your very own domain name. Now what? You can now set up your very own web site and do many things with it. You can sell things, you can profess your love for your wife, you can talk about your pets, etc. The only problem with owning your own website/domain is that you must learn how to program the website so that others can see it or hire someone who knows how to do this. This is the money part that I mentioned above.
You do have to have a place to put the web site. It is called a web host. My web host is the aforementioned Dreamhost.com. All of the files that I create go to that host and the host gets the web site up on the Internet. More money. We Hosts charge a monthly fee for this service. The hosting fees require that you do research.
Some of the things you look for in a good web host:
-Upload and Download ease - Can be tricky with some web hosts.
-Disk space for your web site - do you have a thousand pages on your site?
-Reasonable Bandwidth - controls the number of accesses to your site.
-Control Panel - Allows you to set various features of the web host and access to various files.
Email Accounts - You should get several.
If you are going to attempt a web site, do the research and email me if something really stumps you.
So your decision to become Master of your Domain would be based on your burning desire to do something... The Internet can be the greatest form of communication ever devised if it is put to good use. Be prepared for lots of learning, lots of work and some frustration.