Inclusive religion
by Faye Seidler | .(JavaScript must be enabled to view this email address) | Culture | March 15th, 2017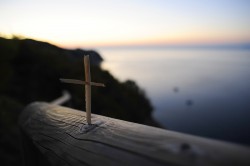 Religion has never been a big part of my life. Neither of my parents really went to church and I only remember going a handful of times when I was very little. The existence of a god never really factored into my childhood and it wasn't until my late teens that I finally had any serious conversation about faith, religion, and belief. I never came to favor any dogma but I did find I was very spiritual.
While I never practiced a formal belief system, I always appreciated it in others and the value they took from it. Unfortunately, the trans community has a great difficulty finding an accepting establishment. One of the major concerns for many trans individuals is finding a place where they can practice their faith without discrimination or rejection.
I had the incredible honor of talking to Pastor Michelle Webber, who leads an inclusive church in Moorhead, about these issues. She also led an event discussing the six genders in the Bible that we'll be looking at in depth in next week's column.
High Plains Reader: What led you to become a Pastor?
Pastor Michelle Webber: I have felt called by God since I was a young child. Though I was born into an atheist and agnostic family, I had mystical experiences as young as four years old. I started going to church as soon as my parents would let me. I have just always felt a strong relationship with God. But I didn't know any female pastors who had gone straight into ministry. So I tried my hand at teaching and I worked in a staffing company, but neither satisfied me. You might say I became a pastor because I couldn't be happy doing anything else.
HPR: What's your role in the United Church of Christ?
PMW: I am an ordained minister of the United Church of Christ, serving as the solo pastor of First Congregational United Church of Christ Moorhead.
HPR: What words do you have for someone who uses their religion as justification to discriminate against LGBTQ+ people?
PMW: I try not to define my faith in ways that deny others the ability to define their own faith. I ask for the same respect. I respectfully request that all people of faith live according to their ideals and allow others to do the same.
That being said, I was the victim of emotional violence in the name of religion. When I was seven years old a pastor told me my parents were going to hell because they wouldn't allow me to be baptized. I had terrible nightmares about spending eternity away from my parents who were in hell while I was in heaven. I developed intense separation anxiety, becoming unable to sleep over at anyone's house for fear my parents would be gone forever when I got home. I believe that Jesus' ministry in the world was one of healing and wholeness. In my understanding, anything that brings division and pain, instead of healing and wholeness cannot be a part of my faith.
When I see someone using their faith as justification for discriminating against people, it makes me angry. It hits the tender spots of my heart that were hurt in the name of religion when I was a kid. The Jesus that I meet in the pages of scripture worked tirelessly to reconcile those others left out of communities of care. He spoke of love and compassion and healing. He fed and healed people. He laughed and cried with people. He ate with those others defined as sinners, saying they were the reason he came. His final act was to ask forgiveness for those who killed him. My Jesus is not a voice of condemnation and discrimination, but an example of love and compassion. In response to my faith I seek to be a voice of love and compassion.
HPR: Where can someone contact you if they'd like to learn more about inclusive religion?
PMW: No matter who you are or where you are on faith's journey, you are welcome at First Congregational UCC Moorhead. We have weekly bible study at Noon on Thursdays and Worship at 10:00am on Sundays. You can find out more about us at moorheaducc.weebly.com (218) 236-756 uccmhdpastor@gmail.com. Faith Communities can find great resources through the Center for Lesbian and Gay Studies, which is affiliated with the Pacific School of Religion, CLGS.org
HPR: Is there anything else you'd like to add about this topic?
PMW: I am proud to serve a denomination which has a long history of leading mainline denominations in becoming inclusive. I was attracted to the UCC church in Moorhead because of their combined commitment to justice issues related to economics and to LGBT rights. We are a justice-seeking church. I believe that full inclusion of all gender identities in our community and our churches is a justice issue.
[Faye Seidler is the North Dakota Safe Zone Project Spokeswoman ]