Ink, iron, and the queen of rust
by Sabrina Hornung | .(JavaScript must be enabled to view this email address) | Culture | October 19th, 2017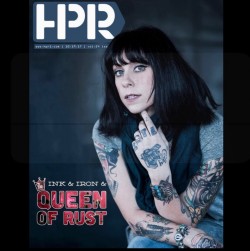 When asked what sparked her interest in tattoo culture, Danielle Colby, star of the hit reality TV show 'American Pickers,' replied, "I think that came from my grandfather. He was in the Navy, so he was heavily tattooed. I remember he had this one tattoo of the Statue of Liberty on his forearm and it was so blown out from all of the years of being out in the sun." She continued, "I look back on all of these tattoos my grandpa had and I guarantee you he had some tattoos from some famous artists because there were so few back then. I wish I'd had those conversations with him more, but I didn't think about that when I was young."
You may recognize Colby as the charismatic tattooed wheeler and dealer from 'American Pickers,' on the History Channel. Not only is she a woman of many tattoos. She's a burlesque performer, film producer, fashion designer, advocate and feminist.
"I grew up in a setting where I wasn't allowed to actually use my feminist voice and there was a lot of nitpicking cattiness and difficulty in female relationships when I was younger because of that -- because everybody is just fighting for a man so they can have babies and survive until they die," Colby said. She didn't know what she wanted; she knew what she didn't want, but her choice was much more difficult than that.
"When you leave a situation like that, there's a process called disfellowshipping where you lose everyone in the church. You lose your family and being it's such a close-knit organization, you're not allowed to have friends outside of that fold."
Colby went on to say, "So restarting my life after I left, with zero friends and zero family, I was able to speak out. It was really difficult and I was pregnant, so through those difficult situations I did find my feminist voice, my female voice, my mother voice."
"I was 20 when I heard my first Bikini Kill song and I was like ahhhhhh! I'm actually allowed to have angry feelings about all of this stuff in the past that I had no control over. It's ok to be angry about it. It's ok to say no. It's ok to look at somebody and say: What you're saying is highly offensive." She went on to say, " At that point I found roller derby, I found burlesque and I thought I'm just going to dive into all of it face first and get all of the broken bones and get kicked out of every social circle."
She attended her first burlesque show close to 15 years ago. Burlesque legend Satan's
Angel was performing and she was hooked. "It was incredible, I think that's where my love of burlesque came from, and then as far as the burlesque history goes it just follows suit." She went on to explain, "I'm a person who likes the story and a story always makes something better."
She has an extensive collection of vintage burlesque costumes and has spent countless hours documenting and recording the histories -- or rather "her-stories" -- of the women who wore them onstage.
On some occasions her picker life and burlesque life intersect. One instance led to a long-lasting friendship with burlesque pioneer Tempest Storm. The encounter paired Colby with a legend in the industry; it led to Colby co-producing a documentary film about the star's life. Colby said, "Burlesque was a very different thing at that time and she was going through this when it wasn't a sense of female empowerment."
Colby's own burlesque repertoire includes aerial acrobatic performances. She started to learn aerials via silks, which are suspended bolts of fabric often associated with the circus arts. She eventually shifted to the hoop lyra, which is a suspended solid hoop and is also used in the aerial arts. "I'm learning everyday and I'm enjoying the process of learning, just trying to make it look smooth. It's very humbling, just like burlesque is." she said.
"It's a great social outlet for me, especially working with a band and being able to communicate with everyone onstage and to communicate with the audience as well and just feed off of each other, have fun and make everybody laugh," she said. She recently performed with her band Gin Rummy, at Riot Fest in Chicago last month. Gin Rummy boasts the tagline: "A two-man band with a one-woman riot of dancehall, dirt floor adventures."
When she first started performing she admits it started with ego. "There's an ego drive where you want to look pretty on stage and have people clap for you -- then you don't realize how hard it is to make that happen," she said. She finds the sound of applause infectious.
When asked how her family responded, once they found out their daughter was a burlesque dancer she responded, "I think for the first 10 years they were a little shocked because my family are Jehovah's Witnesses, so that's always a rabbit hole to go down...but it's funny, because lately I'll show my mom clips here and there, especially now that I'm doing lyra. Now she gets it."
"I think the recipe for success in burlesque is realizing you really know nothing -- and that's kind of a theory for life too maybe?" she laughed.
Danielle Colby will co-emcee and sign autographs at the Roughrider Ink & Iron Expo. The expo itself will celebrate over 50 tattoo artists, tattooing onsite -- but that's not all. Over 120 custom motorcycles will be displayed throughout the Scheels Arena.
IF YOU GO
2017 Roughrider Ink & Iron Expo, with Danielle Colby of 'American Pickers'
Oct 20, 2pm-12am (ink only); Oct 21, 10am-12am; Oct 22, 10am-8pm
Scheels Arena, 5225 31st Ave South, Fargo; 701-356-7656