​Is bigger really better?
by Chuck Solly | .(JavaScript must be enabled to view this email address) | Culture | March 15th, 2017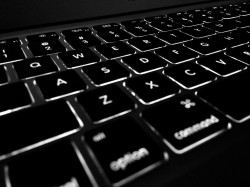 For those of you with your minds in the gutter, I am talking about computer keyboards. This is, after all, a Geeky Technology column.
The most common kind of keyboard is referred to as a 'QWERTY' keyboard after the keys on the top row of letters. It was invented by C. L. Scholes in the 1860s, when he was working out the best places to put the keys on a manual typewriter.
Computer keyboards are very problematic. The early keyboards were all the same size, the same shape, and the same feel. They also failed with great regularity. For those of us who spend a great deal of time using computer keyboards, the feel is very important.
The feel of the early ones was lousy and the pressure required to throw the switch under the key varied from key to key and from keyboard to keyboard. The switches didn't have a very long lifetime.
Today, you can buy a keyboard for your computer for as little as $9.95. If you don't spend a lot of time on the keyboard, this might be the best one for you. But before you do that, look at the keyboards from Corsair, G. Skill, and Razer. They have their own features and, of course, they are much more expensive. Still, check them out.
My keyboard is a Corsair with lighted keys, Macro keys and video controls, but the biggest advantage to me is the feel of the keys. I know precisely whether I have pressed the key and the required pressure is always the same.
Since I eat when I am sitting at the computer, the keyboard gets dirty. A great advantage of the Corsair keyboards is that you can remove the key caps and clean them as well the surface of the keyboard. Try that with your $9.95 special. On second thought, don't try cleaning it. Go out and buy another cheapie or buy a good keyboard that you can safely clean.
Don't submerge any keyboard in water but even cleaning a cheap keyboard with a damp rag can short out some of the keys. They just won't work.
Now, about the title of this piece: With the advent of the laptop the size of the keyboard began to shrink. In my opinion, bigger is better. When I use my small laptop I find my hands bumping into each other! This is why, when my wife asked to use the laptop I gladly set it up for her.
If you have a laptop there is a solution for the tiny keyboards. Simply buy another keyboard and plug it into the USB port of the laptop. Using the laptop with a wireless mouse and a second keyboard will make for a fast and efficient computer session.