Janet Mock is coming to Fargo
by Faye Seidler | .(JavaScript must be enabled to view this email address) | Culture | September 13th, 2017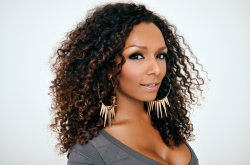 Janet Mock will be the keynote speaker for the 17th annual Red River Women's Studies Conference, hosted by NDSU's Women and Gender Studies Program. She will be taking questions and speaking about her books, "Redefining Real" and "Surpassing Certainty." After those events, individuals will be able to purchase her books and get her autograph.
The event takes place on Thursday, October 19th, between 7:00 pm and 10:00 pm. It will be hosted in the NDSU Music Education Building Festival Concert Hall, which is located at 1511 12th Avenue North, Fargo, ND 58102, and most importantly, this event is free of charge and open to the public.
So, with all of that said, who is Janet Mock? Why should someone go?
The most important thing to know is that Janet Mock is a legendary figure within the transgender community, especially for transgender people of color. When I shared on Facebook that she'd be in town, my feed exploded with excitement about the opportunity to meet her in person.
Like with most things, I can't speak for why other people feel this way, but I suspect it has to do with the dignity, fierceness, passion, honesty, and grace that have defined Janet Mock's career as a journalist and writer.
While Laverne Cox and Carmen Carrera both told Katie Couric to shut the front door and stop objectifying trans bodies, Janet Mock was demanding more out of journalism as an institution.
Specifically, she had an interview on "Piers Morgan Live" where the host attempted to focus the conversation on Janet Mock's transition and body, while ignoring her work, her life, and her activism. He kept referring to her as male by insisting that she was either born male or that she was male for the first 18 years of her life.
The label "born a boy" kept getting put on her and she fiercely rejected that label as an inaccurate description of her lived experiences. She was born a baby, not a boy, who discovered during her life's journey that she was a woman. Neither her birth, nor her surgery, defined that. Instead, she defined herself through understanding and experiencing her own body.
It is through her insight and advocacy that we've really seen the shift in language to using "assigned male/female at birth," because as a society we've moved towards understanding that we are not born gendered, but that gender is assigned to us.
Then again, Monty Python covered that angle in their movie "The Meaning of Life" where a mother asks if the baby is a boy or a girl and the doctor says that it's a little early to be imposing gender roles.
I bring up Monty Python because Janet Mock didn't pioneer this understanding or perspective, but she did talk openly about it at a national level and had enormous influence there. She helped contribute to the shift in media and journalism that now respects trans individuals instead of treating them like a National Inquirer headline.
After the whole controversy with Piers Morgan, Janet Mock did a segment with Fusion's Alicia Menendez where she flipped the script. Mock interviewed Menendez with the same scrutiny and insensitivity trans people had suffered.
It's easy to find this video online and I recommend looking it up, but some highlights were Janet Mock telling Menendez that she look so beautiful for being cisgender, that she couldn't even tell that Menendez was cisgender while just looking at her.
Mock also asked Menendez if she had a vagina, at what age she realized she was cisgender, and a series of other questions that highlighted how incredibly insensitive and intrusive questions trans people face can be.
Alicia Menendez, after the interview, spoke about how she had no idea how unnerving and uncomfortable these questions would make her feel. Even though they had formulated and talked about them prior to the interview, actually experiencing them allowed her to feel exactly how horrible they really were.
I've taken the space to describe exactly one amazing thing that Janet Mock has done in her life, but her life is full stories like this and she has had an incredible impact for a multitude of communities. She's spoken about feminism, racism, sex work, journalism, and trans issues at length and to thousands. She's been fighting for a better world and for better odds for the marginalized for a great deal of her life.
I encourage everyone who cares about or has been impacted by social issues to make their evening free on Oct 19th to listen to this amazing woman speak. I encourage everyone to buy her books and, if given the chance, to get them signed, because this may be the best chance this area has for a while.
Above all, I encourage people to appreciate and thank her for the work she does.
[Faye Seidler is North Dakota Safe Zone Project Spokeswoman]